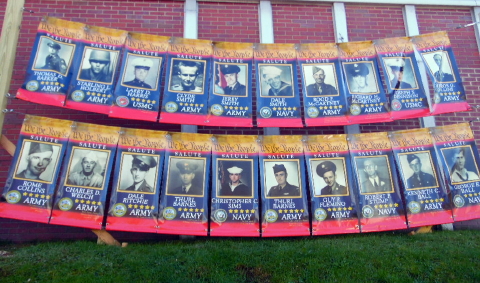 The Calhoun County Historical Society is preparing once again to display veterans banners — this time for Memorial Day.
The "Freedom Flags" are 20" wide and 40" long. They list the veteran's name, branch of service, a photo image, and the name(s) of the sponsors.
Military photographs are preferred and must be in good taste. The banners are made of oil cloth and have a laminate coating for protection from wear and fading. Once again the "Freedom Flags" will be displayed on Main Street across from the Stump Hotel.
Those interested in adding a veteran to the display, please complete this printable application include an 8x10 photograph of the service member, and a check for $70, payable to the Calhoun County Historical Society.
Applications may be mailed to the Freedom Flag Project, 123 Johnson Street, Grantsville, WV 26147, or dropped off at the History Center on Main Street, Grantsville any Friday between the hours of 11:00 a.m. and 2:00 p.m. The deadline for applications is Monday, March 28, 2016.