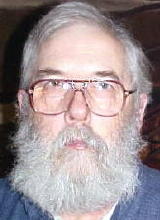 By Alvin Engelke
alvinengelke@hotmail.com

Rick Williams brought a St. Valentine's day message at the Burning Springs M. E. Church. He and the attendees sat around the stove to keep warm.

Trooper Jarvis, Travis Corbett & Janey Wigal were among those attending the Creston Area Neighborhood Watch meeting. It was reported there that some folks in Spring Valley were given an offer they couldn't refuse & the moved to Roane County. Then, Thursday evening Roane County sheriff Todd Cole & crew, along with CPS, paid the folks a visit & now they are residing where they wear orange suits & flip flops. Seems the folks wanted to be hired on at DuPont as chemists and they were "honing their skills" by playing with their chemistry sets. Last Sunday it was noted that there were at least a dozen vehicles pared near the trailer at the junction of Roane CR 9/2 & CR 9. It was learned that the structure is so badly contaminated that it must be removed and destroyed.

On Saturday when it was so cold a flock of robins was observed between Burning Springs & Creston. Then Sunday afternoon it warmed up and snowed again. Titmice, juncos, chickadees, nuthatches, woodpeckers, wrens & white throated sparrows have been calling at the bird feeders.

Some local residents attended the Spring Valley Homeowners Association and the feeling was that matters there have taken a turn for the better. While there remain substantial obstacles there is optimism for a better future. As part of the Big Eared One's "booming economy", coupled with the war on coal, there are 355,440 individuals/families in W. Va. receiving food stamps [plastic card]. An audit revealed that substantial sums from the program are spent in the Carolinas & Florida and consequential amounts are spent in Minnesota, California, Alaska, the Virgin Islands & Hawaii. Of course there is no waste, fraud or abuse as proponents claim "poor folks are just trying to get by".

Joe Basnett was among those calling on H. Wayne Nida at the nursing home in Glenville.

The global warming promoters are having a hard time since the dire predictions made by their high priest, Al Gore, did not come to pass last month. Instead of the ocean raising 20 feet there may have been an increase of a few millimeters. The new story now is that the earth is "parched" and the soil, along with the underground aquifers, soaked up all the rain, said to have been caused by man-made global warming. There is a local resident who has substantial "ocean front" property for sale.

Antero, a Denver based firm that has drilled in the Marcellus, announced that the company plans to establish a land fill in Doddridge County adjacent to their water treatment facility now under construction. The 1,000 page application indicated that they intend to put salt in the facility although most of the salt produced from the treatment plant will be food grade and the remainder being usable for road salt, water softeners, etc. It was noted that there will be 180 tons of radioactive "sludge" annually which is said to "go elsewhere". Those knowledgeable in such matters note that W. Va. has no laws addressing such and that Antero's friends in the legislature do not plan to pass any legislation to protect the state & its citizens.

An attorney from the Bordas & Bordas law firm in Wheeling noted that "new reports this past week demonstrates that Del. Woody Ireland, R-Ritchie, is again pushing the forced pooling legislation through the legislature. News articles have described that Ireland owns significant oil & gas minerals and t least six (6) new gas wells are planned on his property. As much as 20% of Ireland's income has come from oil & gas exploration and development since 2011." Another report noted that Del. Ireland gets an 18% royalty while the bill he promotes defines royalty as 12 1/2% which is the amount EQT, CNX, and others say is "all we'll pay!" Royalties on world class oil & gas formations should be at least 25% which is the amount certain out of state outfits now receive.

Local residents attended the agriculture & forestry day at the legislature, met with legislators & feasted at the Taste of West Virginia reception. Spencer insurance man Bob Ashley addressed the Farm Bureau representatives and informed them that he was four square in favor of the forced pooling bill that the big out of state companies want which is to the detriment of land & mineral owners. The W. Va. Farm Bureau is not supporting the forced pooling bill. Ashley is running against State Sen. Donna Boley who has always looked after the problems and issues of her constituents.

The price of local Pennsylvania grade crude is $28.44/bbl. with condensate (super mountain high test drip) fetching $9.44, Marcellus & Utica light $22.44 & medium $28.44/bbl. Gasolene in the Parkersburg area has dropped below $1.45/gallon.

It was learned down at the Mouth of the Elk that a new deal era law (1939) requires that wholesalers mark up by 4% and retailers must use up 7% and the increases on motor fuel (790 million gallons/year) must include the state & federal tax of 52 cents. That amount was just $47 million for the 2013 year. There was a meeting concerning Mother Hope's "firm transport" and "Gateway project" fees that legacy producers must pay. The current fee is 65 cents leaving producers 51 cents/mcf which, of course is not economically realistic. One plan is to just shut in the wells & defer the payments to the "hard up" Rockefeller company but such would require that the state not force producers to plug he wells as "non-producers". Senate Bill SB-396 addresses the problem but it is said that some in the legislature who take their cue from the big out of state boys are opposed to the legislation.

The educrats said it would take four years and mucho wampum to replace the common core standards that Little Jebbie & the book salesmen want but such is not the case at all. All they have to do is copy and update the tests that were used in the late 1800s to guage educational proficiency, copy the same and hand them out. They also said that McGuffey's readers and Ray's Arithmetic are unavailable. In the modern age do these folks believe that textbooks must be printed on Gutenberg's presses?

There were 39 present on January 30 in Zanesville for a gathering honoring Johnna Heater who now lives at 3666 Secrest Road, Apt. D-4, Wooster, Ohio 44691. Rev. & Mrs. J. W. Thompson led the meeting. Don & Connie Ray, Sherman & Betty Bradford, Henry & Annette Thompson from Oklahoma & Texas were among the attendees. Some wanted her to move to Oklahoma but she said she wanted to come back to W. Va. and likes to hear from her Mountain State friends.

The views and opinions expressed herein are those of the author and do not necessarily reflect the views of the Hur Herald.