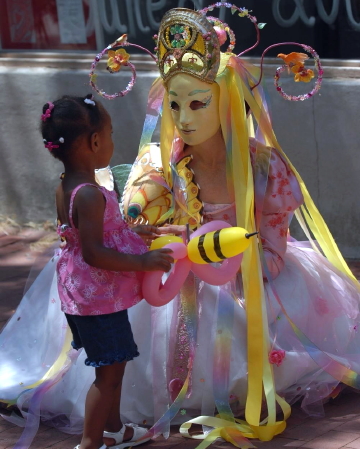 Heartwood's Artistic Director Jude Binder
as the FestiVALL Princess, greets a child
Enrollment is now being taken for Heartwood in the Hills' 33rd annual spring program of classes. This spring program will include classes in dance, art, music and maskmaking. Also featured this program will be a music workshop for children ages 10 and older and a special art class with guest artists.
In addition, Heartwoods' Performing Arts Students will join in the Wood Festival Parade. The Performing Arts Program offered is for boys and girls ages 8 through teens, wanting to learn to dance and perform. Students are required to take at leas two classes per week and attend rehearsals in preparation for the wood Festival parade and afternoon dance performance.
Artistic Director Jude Binder is pleased to announce a number of exciting things happening this program. Gina Burns will be joining Jude to teach the Performing Arts Program. Over the years, Gina has taught a number of Heartwood classes including dance, art and maskmaking and also has performed in many Heartwood productions.
Guest Artists Julie Peppito and Gideon Kendall will be teaching the Young Artists class during a special session on Tuesday, April 26, and also on Tuesday, April 26, Heartwood will offer a music workshop with Michael Franek. This workshop will be for those ages 8 and up.
Participants in the workshop do not have to be enrolled in the regular Heartwood program in order to participate.
For a complete list of available classes, fees, and schedules visit heartwoodinthehills.org