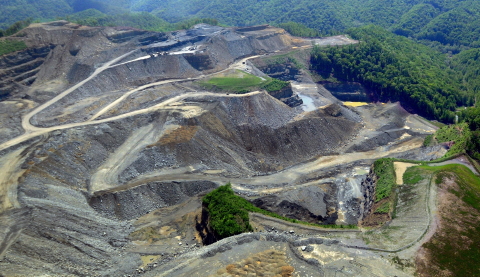 Chris Dorst - Gazette-Mail file photo
Study details how mining has flattened WV
By Ken Ward Jr., Staff Writer for the Gazette-Mail
Decades of mountaintop removal have left the coalfields of West Virginia nearly 40 percent flatter than they once were, according to a new scientific study that tries to provide a clearer picture of the long-term impacts of large-scale surface coal mining.
Blasting apart ridges and filling valleys has reduced the average slope of mining regions of Southern West Virginia by about 10 degrees, according to the study, performed by researchers at Duke University and published in the peer-reviewed journal Environmental Science and Technology.
"The impact is deep and extensive," said lead author Matt Ross. "It is locally large and more wide-ranging than other forms of mining." The study, which compares pre- and post-mining topographic data in southern West Virginia, is the first to examine the regional impact of mountaintop removal mines on landscape topography and how the changes might influence water quality ...
READ REST OF STORY Study details how mining has flattened WV By Ken Ward Jr., Staff Writer for the Gazette-Mail