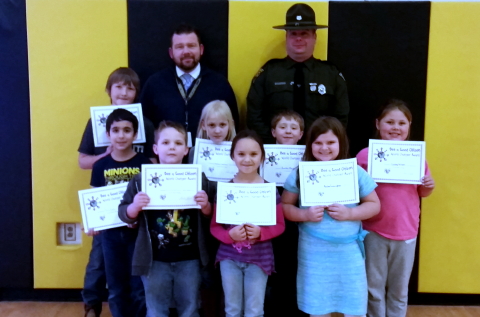 Mr. Chris Melonas and WV State Trooper Cpl. J.B. Hunt receive Community World Changer Awards from Arnoldsburg School students
Submitted by Malcolm Lanham
Community School Coordinator
Arnoldsburg Elementary School
Arnoldsburg Elementary School recently held their January, 2016 Awards Assembly. This was special not just because it was the first of the new year, but it also signaled new awards to be awarded to the students but also for their new monthly Community World Changer Awards that will be awarded to two people each month from the community and is decided on by the students.
The new awards for the students also included a World Changer (Good Citizen) Award, the Stinger Scholar Award, the Stinger Island Award and Math Facts in a Flash Award.
For the Community World Changer Awards for January, Mr. Chris Melonas and WV State Trooper Cpl. J.B. Hunt were chosen by the Kindergarten classes. Mr. Melonas serves as the Director of Nutrition for Calhoun County Schools and was chosen by Mr. McCumbers' class for his assistance this school with Arnoldsburg Elementary's Food Pantry that provides backpack meals to about 30 students each weekend and over the holiday break. WV State Trooper, Cpl. J.B. Hunt was chosen by Mrs. Fitzwater's class for his dedication to the safety of the students at Arnoldsburg Elementary and for coming to the school on a regular basis to check on the teachers and the students. Both were awarded with plaques at the assembly.
The following students received awards for the month of January:
The World Changer Award: Pre-K- Lilly Falls; Kindergarten - Nathan McClain & Brayden McKown; 1st Grade - Raylee Cunningham & Jewel Nichols; 2nd Grade - Hunter Marks, Elias Sidda; 3rd Grade - Cyrena Wilson and Brooklyn Greathouse; 4th Grade - Caden Jones, Jayton Gibson.
Stinger Island Award for the most Blue Ribbons on Study Island per class: Kindergarten - Evan Miller, Terry Holley; First Grade - Brylee Brennemen, Eli Bailey; 2nd Grade - Brooklyn Pennington, Gunnar Helmic; 3rd Grade - Lauren Lovejoy, Maycee Carter; 4th Grade - Trista Arnold, Morgan McCumbers.
Math Facts in a Flash Award: 1st Grade - Peyton Ackley, Brennan Carpenter; 2nd Grade - David Patten, Holly Carper & Faith McClain; 3rd Grade - Jonathan Summes, Jaiden Webb; 4th Grade - Turner Garretson.
Perfect Attendance for the month of January: Pre-K - Alison M. Flinn, Ryne Garretson, Evan C. Griffin, Jace D. Lemon, Haley Nicholas, Kaley Nicholas, Paityn Roberts, Marvin Robinson, Jamie L. Starcher, Izabella G. Zwoll; Kindergarten - Gavin Hicks, Nathan McClain, Micah Mcglothlin, Braydon McKown, Isabella Metz, Evan Miller, Griffen Parsons, Remedy Riddel, Christian Rogers, Tucker Sampson, Travis Thomas.
1st Grade - Laney H. Arnold, Eli Bailey, Trevor Butler, Tyler Butler, Brennen C. Carpenter, Kayleigh R. Cunningham, Raylee A. Cunningham, Kennedy Gainer, Destiny M. Langford, Kelsey D. Lupardus, Hailey J. Poage, Orion V. Swearingen, Olivia Zwoll.
2nd Grade - Trenton Boggs, Logan W. Flinn, Kenneth L. Greathouse, Landon Hardway, Hannah Knicley, Lana Laughlin, Erica L. Lynch, Faith L. McClain, Addison McCumbers, Braden J. McCumbers, Maddison McCumbers, Annabel Nicholas, David Patten, Brooklyn Pennington, Andria N. Persinger, Jadalyn Phillips, Rome B. Riddel, Maggie M. Robinson, Clayton L. Starcher, Kaitlyn Starcher.
3rd Grade - Margret A. Brady, Samuel Elmore, Natalie K. Holcomb, Camron R. Jarvis, Eliza J. Miller, Abigail L. Nicholas, Brayden M. Phillips, Luke M. Roberts, Jeffrey G. Stewart.
4th Grade - Trista F. Arnold, Landon R. Bennett, Marissa D. Brannon, Karlee N. Garrett, Brianna M. Jarvis, Caden L. Jones, Morgan McCumbers, Preston McCumbers, Trenton R. Nelson, Tyler J. Nelson, Whitney Nettles, Autumn P. Rex, Kade L. Swearingen.