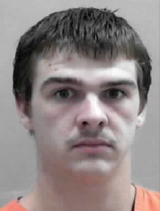 Darren Parsons, 20, of Five Forks, appeared for sentencing in Calhoun Circuit Court, according to Calhoun Prosecutor Shannon Johnson.

Upon his conviction of Grand Larceny, Parsons was sentenced to one to ten years in the state penitentiary for a crime spree in Calhoun.

Following his conviction for Petit Larceny, he was sentenced to one year in the regional jail.

Parsons was ordered to pay court costs and make restitution to the victims which will be determined at a later date. His sentence was ordered to be served concurrent with a sentence he is already serving out of Wood County and was given credit for time served.

Parsons received a prison sentence in June, 2015 for leaving the scene of an accident in 2014, after he stuck and killed a 15-year-old boy on a bike in Parkersburg.

Authorities say Parsons and other Calhoun individuals were involved in the theft of a Ford farm tractor from Larry Burrows, a Zetor farm tractor from Gary Wager, a 18 foot trailer from Steve Satterfield, and gasoline from Triad Gas at Richardson.

Prosecutor Johnson said George Nicholas Parsons, 42, appeared for a Motion to Reconsider his previous sentence. The judge ordered that his sentences be served concurrently to one another and be served concurrently to his sentence in Wood County.

Parsons had previously been sentenced to one to three years in the state penitentiary for Attempt to Commit a Felony, and one to three years in the state penitentiary for third offense Driving on a Revoked License for DUI, a felony.

Court records indicate Parsons had earlier entered plea driving revoked for DUI 3rd offense.

Parsons earlier waived the right to a pre-sentence investigation and was sentenced to one to three years.

Parsons had been indicted on one count of petit larceny, charges stemming from the theft of approximately one hundred fifty six gallons of gasoline from the Triad Oil and Gas location at Richardson.

He had also been indicted for a count of operating a clandestine methamphetamine drug laboratory.

- Cody Little appeared after having been arrested on a fugitive from justice warrant from the State of Pennsylvania, requesting that the State secure a Governor's Warrant for his arrest, with the State having sixty days to do so.

- Micheal Knicely ,46, appeared for a pre-trial hearing. His attorney announced that he had accepted the state's plea offer and set the matter for hearing on February 22 for entry of that plea.

Knicely was indicted for one count of driving on a license revoked for DUI-Third or a subsequent offense.

- Page Forth, 60, failed to appear for her pre-trial Hearing. This matter had been rescheduled due to weather and the court was concerned that Mrs. Forth had not received proper notice of the hearing, so a capias was not issued. The case is set for hearing on February 22.

- James Blankenship appeared for sentencing on his conviction of Attempt to Commit a Felony. The imposition of his sentence was suspended and he was placed on three years supervised probation.

Blankenship was ordered to pay the court costs of this matter and to pay $2.50 supervised probation fee per month and a $2.50 community corrections fee per month.

He also was ordered to undergo a substance abuse evaluation and to show proof within 90 days that he has gained employment, enrolled in an educational program, or applied for disability.

- Corey Metheney, 34, appeared for sentencing related to sexual abuse charges, but it was continued upon his attorney's motion. His case is set for hearing on March 3.

- Jeremy Saunders appeared for a scheduling conference related to an alleged sexual abuse incident in June, 2013. His case was set for a Pre-Trial Hearing on May 4, 2016 and for Jury Trial on June 7, 2016.