10/01/2016 - The Times Record/Roane County Reported says a Big Springs, Calhoun, woman Sherry L. Jones, 59, has been sentenced related to charges of making a terrorist threat against a probation officer.

Jones was to meet with her probation officer Loretta Smith in Roane County, when she allegedly told other probationers in a waiting room she was going to "kill that bitch."

Jones was charged with a felony of making a terrorist threat and was incarcerated.

Roane prosecutor Josh Downey, in magistrate court, agreed to reduce the charge to willful disruption of a government process, a misdemeanor.

She was find $100 plus court costs and placed on two years unsupervised probation and ordered to have no contact with the probation office.

ORIGINAL STORY: CALHOUN WOMAN ARRESTED FOR TERRORIST ACT (2/6/2016)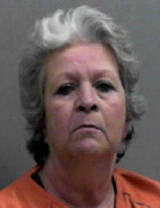 A Big Springs, Calhoun woman Sherry Lynne Jones, 58 (left), was charged with a felony terrorist act Thursday by the Roane Sheriffs Department after she made threats against probation officer Loretta Smith.
According to the criminal complaint, Jones told other probationers appearing for a monthly meeting that she would "kill that bitch."
The complaint said that two probationers in an outer office said that Jones starting cussing Smith and then made the threat.
"The (two) probationers stated they believed Jones was serious and they became afraid that Jones was going to do something," said the complaint.
Jones advised she was leaving the Roane Probation Office saying, "If they wanted her they could come and arrest her."
A person convicted of a Terrorist Act if found guilty is subject to a fine not less than $5,000 nor more than $25,000 or confined in a state correctional facility for not less than one year nor more than five.
Jones is in Central Regional Jail with bond set at $30,000.