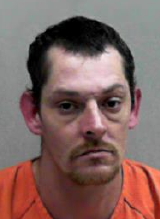 Doy Gene Hannah, 36, of Chloe, is in Central Regional Jail for violation of home confinement.

Complainants in the Chloe area said Hannah was wandering on their property Wednesday, and police responded.

Hannah had been charged with domestic battery, third offense, and for the possession of a deadly weapon by a convicted felon.

Calhoun authorities arrested Hannah in 2012 with the same charges.

Last year Hannah was the subject of a three days of police response in the area after Hannah allegedly assaulted his wife, according to a criminal complaint filed by Sheriff Carl Ballengee.

A criminal complaint said Hannah was yelling, cursing and threatening his wife with a gun, a criminal complaint saying he "destroyed the computer...then hit her and grabbed her by the hair and dragged her through the house."