Roane County family finds antique cookbook
By Anna Patrick, Flipside Editor Gazette-Mail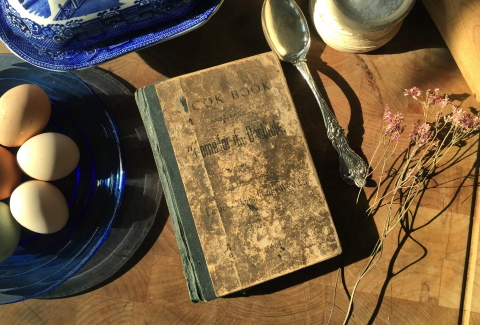 Connie Looney found this antique cookbook in a box of cookbooks that she bought for $2 at the Mountaineers Auctions in Clendenin. The cookbook was published in 1892 by the Ladies of Charleston, W.Va. to raise money for the "Home for the Destitute." (Photo by Kenny Kemp
This 124-year-old cookbook contains donated recipes from women living in Charleston around the turn of the 20th Century. It contains many recipes for breads, cakes, puddings and pies, as well as recipes for making hair tonic, mouth wash, soap and more. A copy of the book is located in the West Virginia Archives and History Library. This copy was found in a box of cookbooks sold at the Mountaineer Auctions in Clendenin.
It took Connie Looney a few months of cleaning out the box to find this antique book.
History pokes out from the edges.
Yellowed newspaper clippings stick out of the top. The crumbling cutouts and scribbled notes have been there for years, tucked away safely in the pages.
There's the handwritten pickled green tomato recipe on a piece of sample stationery. The rhubarb jam ingredients are faded, but legible. Pieces of a stuffed onion recipe are held together with two metal pins.
The papers are telling, like little windows into the cookbook owner's life. It shows that she kept many pickle recipes and that using gelatin was a popular choice. Any piece of paper, an old bill or piece of hotel notepad, made do for writing down a recipe. Her life evolves on the pages. Over time, her smooth, flowing cursive transforms as she ages to shaky, jagged letters ...
READ REST OF STORY hursday, January 14, 2016 Roane County family finds antique cookbook By Anna Patrick, Flipside Editor Gazette-Mail