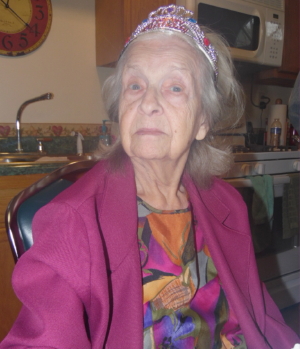 97-year-old Oka resident Irene Jarvis Gunn is celebrating her birthday, now being is assisted care.
Shown here is her 95th birthday at the Minnora Senior Center, with visitors and cake, storytelling about her days as a one-room schoolteacher in Calhoun.
When asked how she managed to live to 95, she replied "Being stubborn, climbing hills and God's will." She said following her last physical, "Everything came back normal."
She recalled escaping from near-death experiences at age three and twelve.
Gunn, known for her feisty independence, was still living in the historic Mammy Jane (Jarvis) homestead in 2016, mostly living independently.
"I still don't know why I'm here on earth," she said.
"My grandmother (Mammy Jane) was still feeding her cows at 92 when she died," Gunn said.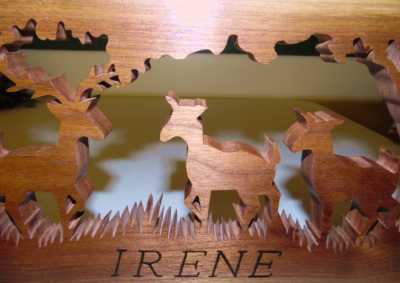 Woodcarving given Irene by Michael "Biscuit" Badgett
See SUNNY CAL JOURNAL - Labana Jane Said "Don't Spend Energy On Anything You Can't Eat," Irene Jarvis Gunn Holds Forth At Homestead