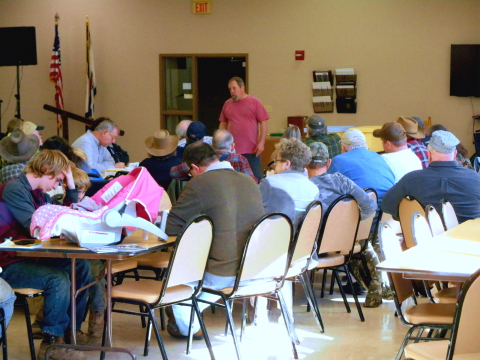 Paul Cappas, Pres. of WV State Beekeepers
Association gives talk to local WCBA members
Submitted by Al Darman, WCBA Secretary
There were 61 members, including all officers present at the West Central Beekeeping Association meeting February 27th.
It was reported that Bee Packages for this year will be made available to members for $105, and new wildflower seed packets will be available later this year. They are much higher quality seeds and unused portions can be kept in a freezer for up to 3 years.
President Dale Cunningham reported that a portion of the My Community Foundation Grant had been received to help with the cost sharing expenses which were distributed in December 2015. The remaining portion of the grant will be available for cost sharing in the purchase of bees, bee food and medication.
2016 Beekeepers Planning Calendars were distributed to members. 50 lb. blocks of bee fondant were made available for member's purchase at $57/block.
Amy Edens of the WV Department of Veterans Assistance reminded members of the programs available for veterans. Interested parties can reach Amy at her 3rd floor office in the FNB Bank building, Spencer or call 304-927-0980 for further information.
Plans for the WCBA Spencer Honey Show, to be held Friday, July 29th from 10:00 to 6:00 were discussed. Members interested in helping should contact Brenda Tatterson at 304-927-4634.
Paul Cappas, President of the WV State Beekeepers Association was the guest speaker. Paul gave an informative talk on how to treat hives with Oxacillin acid and how with Formic acid. While highly effective, a once per year treatment of Oxacillin acid does not penetrate brood cells, so is best used when brood less (in winter) for a near 100% mites kill rate but requires specialized equipment to apply. While application of Formic acid does not require any specialized equipment, and does kill mites in the brood as well as mites on live bees, it is not as effective and needs to be applied at least 3 times a year in the summer.
The next meeting of the WCBA will be March 26th (4th Saturday in March) at 1:00 at the Committee on Aging in Spencer, WV. The public is invited.