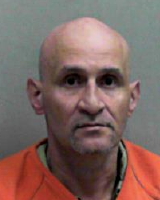 A Spencer, Roane County man is facing seven charges related to the alleged brutal sexual assault of his wife.

Angel C. Falcon, 49, of Summit Street is in Central Regional Jail with bond set at $250,000.

Falcon is charged with sexual assault 1st degree, child neglect with risk of injury, assault during commission of a felony, domestic assault, domestic battery, unlawful restraint and brandishing.

A criminal complaint filed by B. J. Gooden of the Roane Sheriffs Department says Falcon choked, struck her, and threatened to stab and kill her during a two to three hour period, part of the time having her handcuffed with her arms behind her back.

The complaint says Falcon told his wife, while sexually assaulting her, "If I can't have you, no one will."

The complaint says the man threatened to beat her to a "bloody pulp" if she screamed or cried, threatening to stab her if she awakened the children or called the police.

Three children and one adult male nephew was in the household during the assault.

The complaint describes numerous abusive sexual encounters, while the woman asked for him to take a break.

When the infant daughter was awakened and started to cry, the woman escaped from the residence.

Ms. Falcon was taken to Roane General Hospital.

The Roane Sheriffs Department, the Spencer Police Department and the State Police responded to the incident.