By Alvin Engelke

The global warming folks must have lit out for Baghdad to serve as human shields against U. S. removal of unnecessary ragheads. For sure the local area received several inches of snow and cold weather. This is first time in years that there was enough snow in deer season to use to track the wily bucks. Some local plumbing was reported to have had solid contents for a while. On the morning of the snow, roads hereabouts, like those elsewhere, were slick. There was enough snow to plow.

Bobby Ray Starcher, who was down from Oil City Pennsylvania for the auction reported that so far this winter it has been the coldest ever up there.

Rev. Juanita Lockhart filled her regular appointment at the Burning Springs M. E. church and stayed for Sunday school. She & Steve provided special singing.

Allen "Alley Oop" Westfall bagged an 8 point buck which was his very first deer ever.

There were 17 on hand for the Creston Community Building meeting on December 3. Routine business matters were discussed with plans to work on the kitchen during January 2003 and the big rooms during February & March. Helpers are urged to contact either Fred, Ted or Ed. Ted fetched down from Erie Pennsylvania a new (to the building) refrigerator which came in the nick of time as the old one "died".

Betty Bish decorated the bulletin boards and hung pretty wreaths on the front doors of the building. Since everyone liked Gloria Norman's hot dog sauce, she was named to be in charge of providing the goodies for future activities.

Amy Ferrell made presentations of pins and patches to everyone who helped in the recent litter pickup along W. Va. Route 5. Charles Russell noted that the roadsides looked much better now and he was pleased.

Future events will be an auction on January 4 and a poker run in the spring.

Nancy Engelke was undergoing computer training at Big Chimney.

It was reported that the production continues to increase from the Garrison Tawney Trenton/Black River well in Roane County while the production from the Parker well is off somewhat. Columbia and other companies are busy doing seismic to pinpoint new locations in Roane, Calhoun, Clay and no doubt other counties. Columbia is busy drilling shale locations in Roane County and, it was reported, Martin Twist is making a new shale location in Roane County. Various other drillers have been busy in Roane, Clay and Calhoun Counties.

Ohio Oil Gathering Corp. was in Creston hauling crude oil and salt brine.

Donna Sue & Christy Ferrell, Anna & Nancy Engelke all helped with the open house for Jane Engelke's pageant facility, Elizabeth Michaels. Jane & Nancy also attended the Parkersburg Christmas parade. The Wirt County Fair float won first place in the non-commercial division - quite an honor.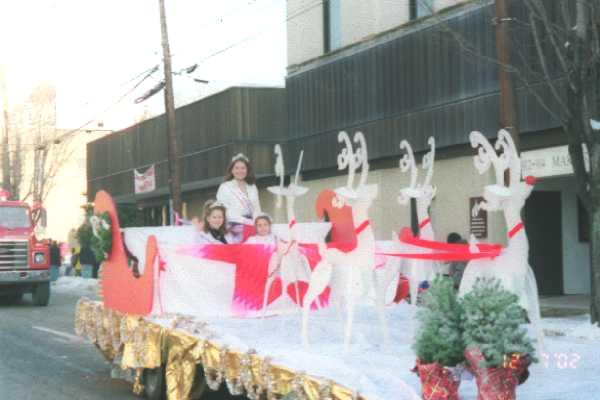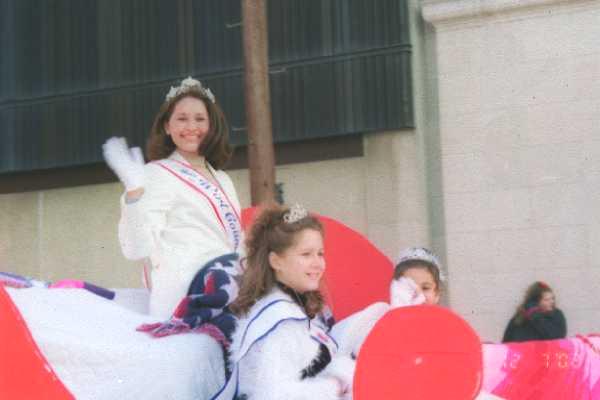 Wirt County Fair Float won first place in non-commercial for the parade. Queen is Danielle Burns, Princess is Simone Schreckengost and Little Miss is Morgan Linton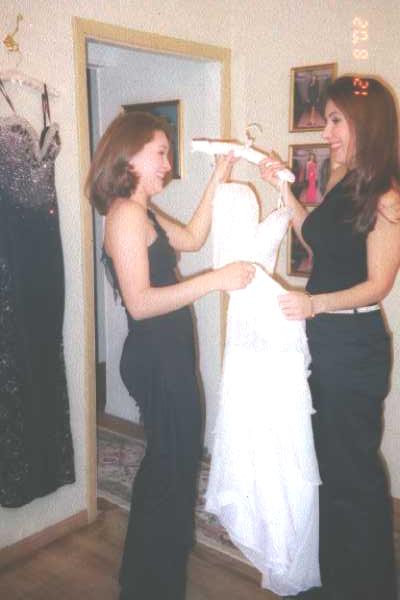 Jane Engelke, owner of Elizabeth Michaels and Danielle Burns Wirt County Fair Queen search for the perfect dress for State Fairs and Festivals competition in January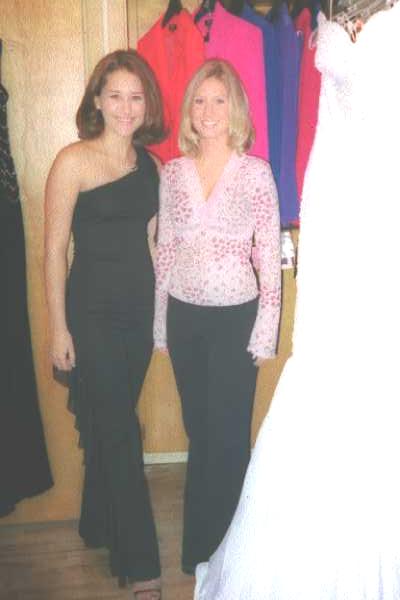 Danielle Burns, Miss Wirt County Fair and Vienna Miss Holly Queen check out the new boutique
For some time now there has been talk that the local Westvaco properties would be sold. After Westvaco and Meade merged a report came out that they had more land than they needed and since the topsoil had been bulldozed off much of the local property with resultant slow growth of pulpwood there had been talk that a sale was in the works. Now, it has been learned that the land in Wirt & surrounding counties has been sold for $50 million with the Wirt part coming in at over $22 million. When the land was purchased most owners received about $10/acre although various political people were paid per acre fees for each acre that was purchased.
There has been a lot of speculation on the identity of the buyer ranging from the Richardsons, Georgia Pacific, Mexican Meth Cartels, Columbian Cocaine Cartels, Chinese Drug Syndicates, Arab Oil & Terror Sheiks, etc. Report has it that the hunting club type arrangements for leasing the land will be history.