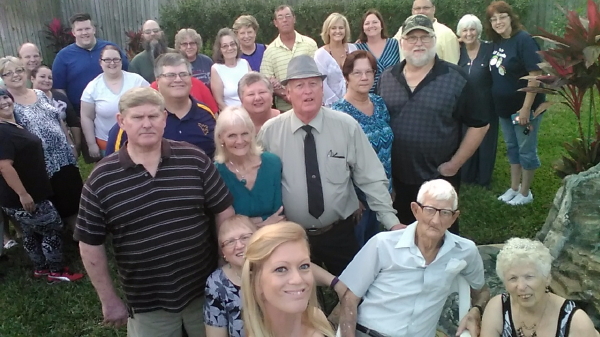 Harold and Betty Belt celebrated their 65th wedding anniversary on December 31, 2015 at their home in Cocoa, Florida with family and friends.
Harold was born and raised at Industry, West Virginia, and is the son of the late Hedgman and Laura Kelley Belt. They are the parents of 4 children, Keith (deceased), David, Steve, and Kathy.
Pictured above from left to right, front row, granddaughter Beth, Harold, Betty. Row 2 son-in-law John, daughter Kathy (kneeling), daughter-in-law Diane, son David. Row 3 Phil Howerton husband of their niece Cheryl, daughter-in-law Pam, and son Steve. The remainder are friends of the family.