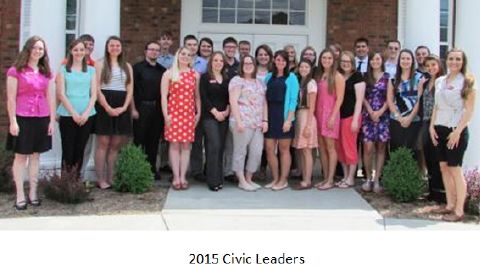 Parkersburg, WV - Parkersburg Area Community Foundation & Regional Affiliates (PACF) announces that its online application for its Civic Leaders Fellowship summer employment program is open now for college-aged students in its eleven-county service region: Calhoun, Doddridge, Gilmer, Jackson, Mason, Pleasants, Ritchie, Roane, Wirt and Wood (WV), and Washington County (OH).
Local affiliate leader, Jim Bennett of the PACF's Little Kanawha Area Community Foundation (LKACF) affiliate, urges students and employers to apply for participation consideration. "This is a great opportunity for high quality-career related employment for our local students. As well as, it's a nice way for local employers to help our local students gain meaningful work experience, so that they will be more immediately employment-ready upon their graduations."
Students are encouraged to apply early as the process is competitive. PACF also seeks applications from employers - businesses, nonprofits and government agencies - interested in receiving an intern at no cost. Guidelines and Applications for students and employers are at www.pacfwv.com under the Initiatives tab. The first-year applicant deadline for students is February 26, 2016. The application deadline for hosts is March 31, 2016.
PACF introduced this Fellowship four years ago to improve access to employment for area students and to develop civic leadership capacity. In 2015, on Mondays through Thursdays for seven weeks, 29 students worked in career-related internships. On Fridays, first year students met at PACF headquarters for a program of personal, business and civic development; second year students worked in teams, visiting and evaluating Foundation grant sites, and making grants; and third year students worked on career networking skills to assist them in locating local post-graduation employment.
Michael Hicks, a 2015 2nd Year Civic Leader from Millstone, WV, wrote, "I was drawn to the PACF's Civic Leaders Fellowship Program because of the emphasis the program places on civic engagement and returning young professionals to the Mid-Ohio Valley region. During my two years with the Program, I have enjoyed learning more about nonprofits in my region and networking with professionals in my chosen career field."
Fellowships are supported by numerous public and private funders with major grants from PACF and the Benedum and McDonough Foundations. Students receive interest-related paid summer jobs in their hometowns with the opportunity to build networks and skills toward post-graduation employment. Employers—nonprofits, businesses and government—receive a summer intern at no cost except supervision in exchange for willingness to provide a meaningful experience. Students must be currently attending college and have successfully completed at least their first semester of freshman year to apply. Graduate level students may apply. Students still in high school are not eligible.
Previous internships have included: Camden Clark Hospital, Parkersburg Boys and Girls Club, Artsbridge, HealthSouth, Downtown PKB, YMCA, Parkersburg Art Center, Kayser Layne & Clark, the Arc, Wood County Library, Marietta Community Foundation, Roane General Hospital, Spencer Newspapers, WVU Extension-Jackson County, WV Forestry Association, Pleasant Valley Hospital, Ritchie County EDA, City of Parkersburg, Hyer & Littlepage, SDR Plastics, Valtronics, River Valley Health & Wellness, Mountain River Physical Therapy, and Vienna Public Library to name just a few. Professional Services of America contributes to the project as its contract employer.
Foundation Executive Director, Judy Sjostedt said, "The Civic Leaders Fellowship is a deliberate effort to engage and retain our educated youth. We were tired of seeing our talented young people graduate and be unable to find good jobs locally, so we're working together to provide quality summer work experiences. We deeply appreciate everyone who makes this initiative possible, from our funders; to employers who offer meaningful work; to persons serving on our advisory panel, or providing training. The out-migration of our educated youth is something we can and should do something about. I urge others to work with us." Sjostedt encourages interested potential funders or employers to contact the Foundation at info@pacfwv.com, 304.428.4438. A video on the Foundation's pacfwv YouTube channel showcases this program.
About Parkersburg Area Community Foundation and Regional Affiliates: The Parkersburg Area Community Foundation and Regional Affiliates (PACF) works with individuals, families, businesses, and civic or non-profit organizations to make a positive and permanent commitment for the future of our community. PACF is a single 501(c)(3) public charity that manages more than 430 charitable funds with nearly $44 million in assets. PACF works in partnership with its local affiliates to provide leadership and develop philanthropic resources to meet the needs of an 11-county service area. Since 1963, PACF has helped local citizens support charitable needs and touch every aspect of life in the community in a variety of lasting ways. For more information about PACF, visit www.pacfwv.com or call 304-428-4438.