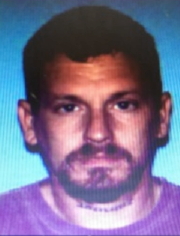 Woodrow "Woody" Edwards Jr., 43, of Newton is being held in Central Regional Jail on $237,000 bond in connection with what Roane deputies say was "a serious domestic incident" that happened Dec. 19.

He is facing multiple charges of wanton endangerment involving a firearm, four counts of unlawful restraint, four counts of domestic assault, third offense domestic battery, three counts of child abuse creating risk of serious injury, assault during the commission of or attempt to commit a felony, prohibited person in possession of a firearm, and interference with an emergency 911 call.

Police say Edwards punched his wife, held a gun to her head, ripped the phone from the wall and set the couple's bed on fire, according to Spencer Newspapers.

His wife said they had been married for a year when he returned from work highly intoxicated, residing with three children, ages 9-12.

The complaint says when she tried to leave, he struck her in the face with his fist and can of beer.

When she went to a bedroom to call 911, he threw her cell phone out the window, rippling out a land line, and then pulled out a loaded hunting rifle.

The woman's children came into the bedroom when he was holding the rifle to her head, and at one point used a lighter to set the couple's bed on fire.

The complaint says the only way she would get a divorce was for her to burn in hell. He eventually got into a car and left the scene, and was arrested later.