By John Griffin

Wirt County's only traffic light came up missing early on Saturday morning, quite possibly the coldest morning yet this season. From its' station high atop Corbitt Hill on the Davidson Ridge where it steadfastly controlled or amused the occasional passersby, including, but not necessarily limited to blue jays, cardinals, deer, State Road employees, citizens, etc. It was stolen by some as yet anonymous thugs bent on depriving the community of it's rather humorously posted device.

Ed and Joanne Wagaman, of E & J Electric, had "installed" the "red light" at it's precarious perch some years ago, for the benefit of those who may enjoy a good chuckle whilst driving down an ol' country road. The light stationed on the ground at the end of their driveway had greeted visitors for several years.

It just wasn't your standard traffic light. Certain modifications had been made to it, rendering it "unique" to it's kind. The 47 volt lamps in the top two lamp assemblies have been replaced with 110 volt light bulbs. It only has the upper two lenses, the upper one having been "patched with red tape to cover a hole". The bottom green lens is missing. Bummer! The orange extension cord coming out the top (not the attachment or power source of preference) sort of sets it apart from the normal lights one may see hanging from the appropriate structures in municipalities.

Sheriff Andy Cheuvront and Deputy Lew Peck are investigating.
Before...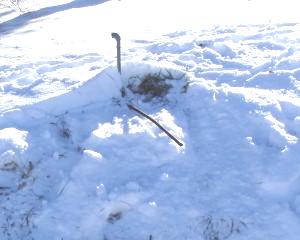 ...After