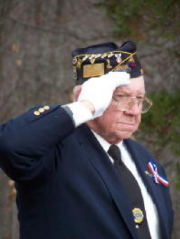 Denver Ray Gandee, 92, of Spencer, a soldier for God and the U.S.A., a statesman and farmer, worked on this earth and offered service to his fellow man from October 13, 1923 to October 15, 2015, passed away in Parkersburg, West Virginia.

He was born in Putnam County, a son of the late Rev. Jesse Milford and Della Powers Gandee. In addition to his parents, he was preceded in death by his wife of 67 years, Erma Harris Gandee; a son, Denver (Denny) Gandee, Jr.; two brothers, Coy and Roy; and two sisters, Irene and Deloris.

He is survived by a grandson, Adam Gandee; and several nieces and nephews and great-nieces and nephews.

Denver entered the Civilian Conservation Corps (CCC) followed by military service in World War II having served in five major campaigns, including the Invasion of Normandy, the Battle of the Bulge, and the Bridge at Remagen in Germany, and also served in Northern France and the Rhineland and the European Theatre with the 76th Infantry.

He was wounded and taken prisoner of war at the Battle at Remagen and that ended his military service. He was awarded the Purple Heart, Bronze Star, Belgian Cross of War for Bravery, and merit, good conduct and valor medals. He was recently awarded France's highest award, the Insignia of Chevalier de la Legion d' Honneur.

Denver was retired from the Spencer Post Office with more than 25 years of service. He attended the Beech Grove Church in his youth and also more recently the Gandee Chapel Church and St. John's United Methodist Church.

He served 16 years on the Roane County Board of Education, 14 years on the board of the Roane/Jackson Technical Center, 20 years on the Little Kanawha Soil Conservation District and Little Kanawha R, C, & D. He was instrumental in obtaining grants for many worthwhile Roane County projects such as the Roane County Library, Camp Sheppard, and Roane County High School.

Denver was a breeder of purebred North Country Cheviot Sheep and was awarded Master Shepherd in 1995. He was an active member of the Roane County Farm Bureau and served 40 years on the Board of Northwestern Livestock Marketing Association where he was president for 25 years.

He was an avid supporter of the Roane County 4-H and FFA programs and served on the Board of Directors of the Roane County 4-H Foundation and has been a continuous donor to the 4-H program.

He was an active member of the American Legion Post 21 performing military funerals, speaking at memorial services, and obtaining park and cemetery monuments to recognize veterans who lost their lives fighting for our country or did not have a military marker.

A funeral service will be held at 2:00pm on Sunday, October 18, 2015 at the Taylor-Vandale Funeral Home, with Charlie White delivering the eulogy and presentation of the flag by VFW Post 21 in Spencer and Marine Corps League, Wood County Detachment 1087.

Burial will follow in the Eventide Cemetery in Spencer. Visiting hours will be Sunday from 11:00 am until time of the service.