A Time To Give Thanks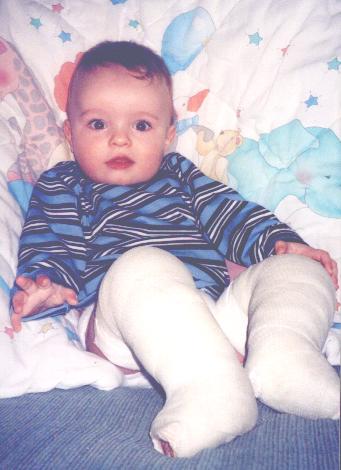 On February 23, 2002, a son, Joel Timothy was born to Josh and Jennifer Blair, at University Hospital, in Morgantown, West Virginia. He was born with Gastroschisis (intestines on the outside of the body) and clubfeet.
In less than one hour and with one surgery Joel's surgeon was able to place the entire intestine properly. He spent four and a half weeks in NICU in the care of great nurses and doctors. His short stay was a miracle, because we had been told that a baby born with this kind of complication could be hospitalized for up to six months.
We are so thankful for the prayers and support of area churches.
A few days before Joel was to leave the hospital, Dick Poling, a local member of the Shriners, called and informed us he had contacted Shriners in Lexington about Joel's clubfeet. He has since had two surgeries, numerous casts and is now in corrective shoes. We are so thankful to have had Dick's help.
Josh and Jennifer Blair,
grandparents, Tim and Charlotte Blair,
Annamoriah, WV