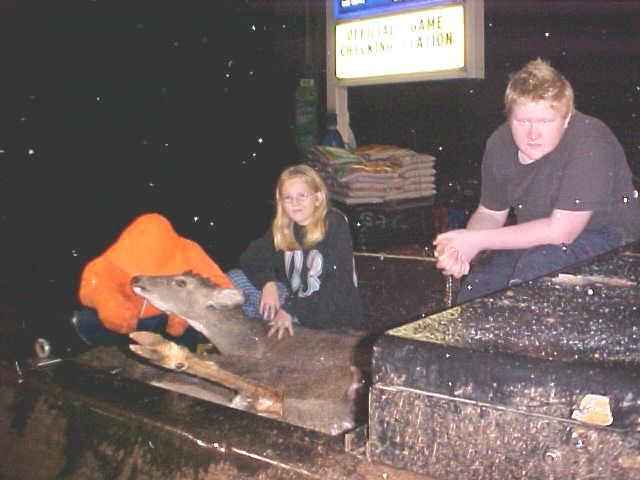 A truckload of deer being checked Tuesday night at Holbert's by the Bells' and the Jones'
It was a great deer hunting day, with some hunters hauling them in by the truckload to be checked.
The weather was cooperative. Tonight temperatures will drop into the upper 20's with snow accumulating 1-3 inches in some areas. Snow showers will continue Wednesday with a high 32-35.
Snow was expected to hit Tucker and Preston Counties, with accumulation up to eight inches.
Lows will dip into the teen's Wednesday night, with Thanksgiving Day partly cloudy and cold, temperatures in the 30's.
HUNTER'S REPORT
Holbert's Store reported a total two-day kill 0f 225, with Chad Justice and John Bunner bagging 10-point bucks.
ChaTis in Grantsville reported one 11-point buck checked by Rasey Wilson, killed in Gilmer County. They had 140 total.
Parson's One Stop reported a two-day total of 102.
Speedy Mart in Arnoldsburg said Steve Houchin and Bryant Hall check l0-point bucks and David Scott checked a 9-point. The two-day total was not available.
The Pit Stop at Mount Zion had checked 165.
Rick's Place at Minnora had about 200 checked, with some big bucks recorded. William Gereny of Maryland 12-points; Jackson Perkons of Chloe 12-points; Curtis Allen of Nicut 11 -points and Sonya Tanner 10 points.