1/12/2017 - Dennis Wayne Bailey, 23, formerly of Calhoun, who had been charged with third-degree sexual assault of an underage Spencer girl, was sentenced by Judge Anita Ashley to 1-5 years in prison, but suspended the sentence to three years probation to be followed by 10 years of extended supervision.

FORMER CALHOUN MAN CHARGED WITH SEXUAL ABUSE OF 13-YEAR-OLD - "Long-Standing Relationship," Says Complaint<_P>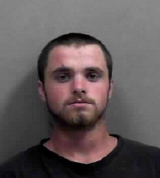 7/17/2015 - A former Calhoun man, Dennis Wayne Bailey, 21, has been arrested by the Roane County Sheriffs Department and charged with the sexual assault of a 13-year-old female in Roane County.
Bailey is facing multiple charges of sexual assault, 3rd degree, and is being held in Central Regional Jail on $100,000 bond.
Roane Deputy R. H. Hickman, in a criminal complaint, said officers responded to a complaint from the girl's mother, the complaint indicating the two has a "long-standing relationship."
Bailey's current address is Tucker's Run.
Officer's used a search warrant and forensics during the investigating.
The officers obtained a statement from Bailey, who admitted to having sex with the juvenile, indicating he thought she was eighteen.