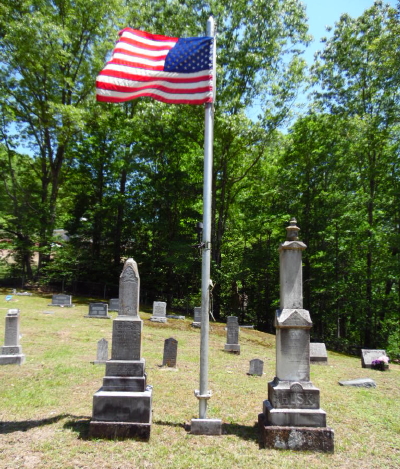 The Samuel A. and Dorcas (Dorces) Husk monuments located on the
Grant Husk farm along the West Fork of the Little Kanawha (2015)
By Bob Weaver
The early Husk family reposes in the Husk Cemetery along the West Fork of the LK - Samuel A. (1823-1888) and Dorcas (Dorces) Anne Critchfield Husk(1827-1914).
Samuel A. Husk a Union solider in the Civil War, came to Calhoun County from Monongalia County, his wife Dorcas (Dorces) coming from Greene County PA.
They had 12 children, some of which are buried in the cemetery.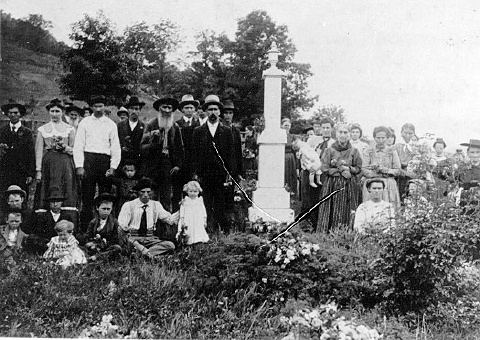 Dorcas (Dorces) Critchfield Husk with Husk descendants in early 1900s at Husk Cemetery, assembled beside her husband Samuel's monument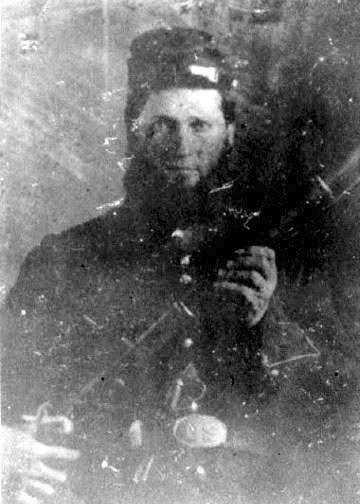 Union soldier Pvt. Samuel Husk served in Civil War about four years
Among the other early burials, John W. Roberts (1850-1933) and Tapley Sapp (1849-1942) who owned 114 acres nearby.
There are numerous photos of early Husk families under Photo of the Day and stories under People, Humor And History.