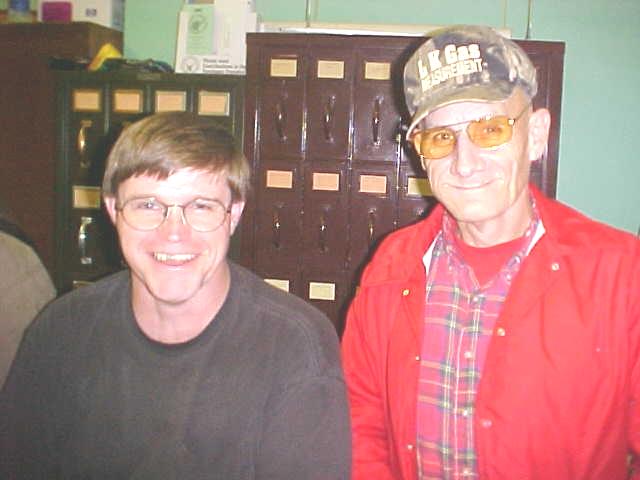 Commissioner elect Rick Sampson and
"campaign manager" Howard Johnson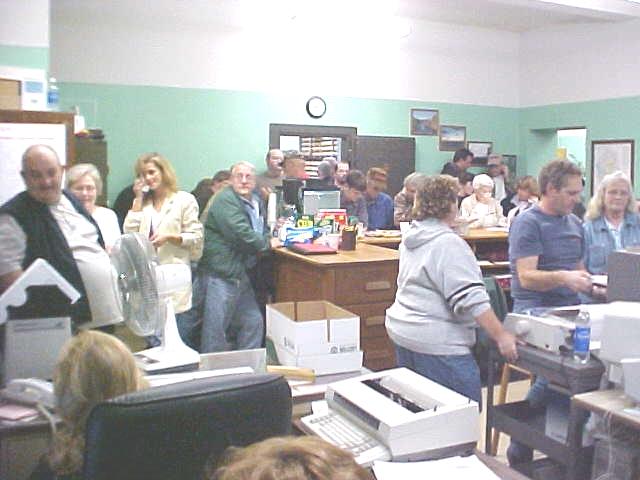 County Clerk's office filled with anxious candidates and their supporters
Democrat contender Rick Sampson defeated Republican incumbent David Barr 1224 to 682 in yesterdays election in the race for Calhoun Commissioner. Sampson said "I will work hard for the people of Calhoun," expressing thanks to the voters.
County Clerk Richard Kirby said 39.29% of county voters turned out during a rainy day.
Commissioner Barr said "I wish Rick well. It has been a privilege serving as a county commissioner over the years." Sampson will begin his six year term on January 1.
Democrat incumbent Delegate Bill Stemple handily defeated Republican contender Lyle Kerby for a seat for the 33rd Delegate District seat in the West Virginia Legislature. The Calhoun vote was 1342 to 591. Stemple out-distanced Kerby in sections of Clay and Gilmer, part of the delegate district. With only five precincts out in Gilmer County, Stemple 2585 to Kerby 1078.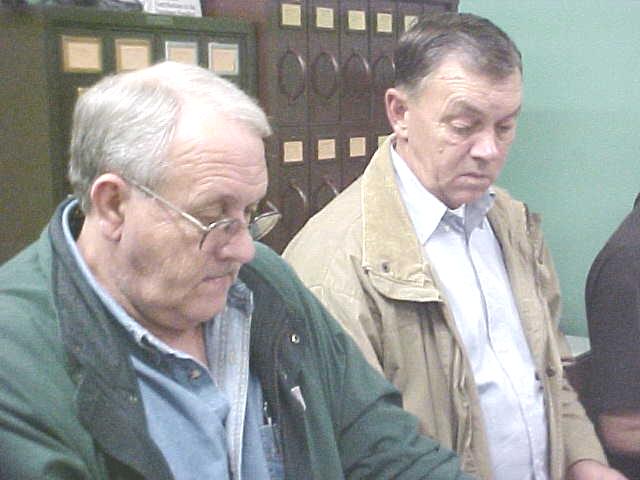 Commissioner McCallister and Delegate Bill Stemple record the tally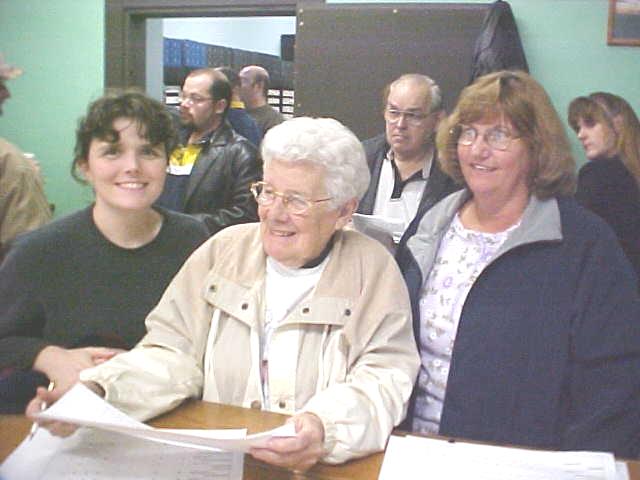 The library ladies say "thanks much" for passing levy
The library levy passed 1033 for, 809 against.
The local option vote in Lee District to establish a liquor store was defeated 233 to 147. Calhoun is still the only county in the state without a retail liquor store.
Amendments One and Two were defeated in Calhoun, with both passing in the state. Amendment One 821 against, 742 for. Amendment Two 921 against, 746 for.
Republican incumbent for Congress, Shelly Moore Capito carried Calhoun against Democrat Jim Humphreys 971 to 926. Capito won the highly contested seat in the district.
Democrat Senator Jay Rockefeller defeated Republican Jay Wolfe in Calhoun 1220 to 693, with Rockefeller retaining his seat.
State Senator Larry Edgell received 1208 votes and Magistrate candidate Rick Postalwait received 1392 votes, both unopposed.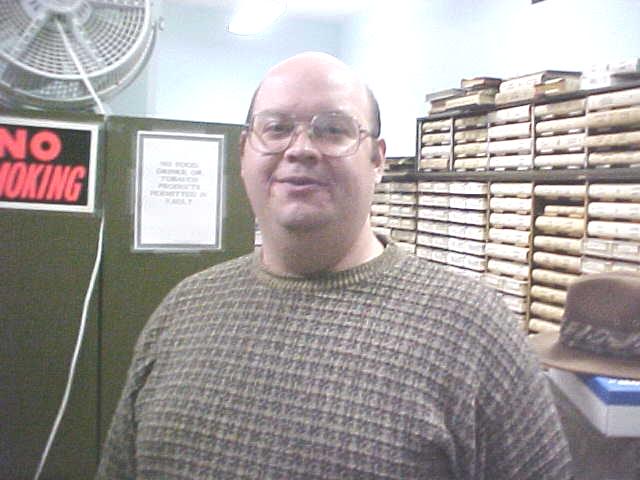 Magistrate Rick Postalwait was unopposed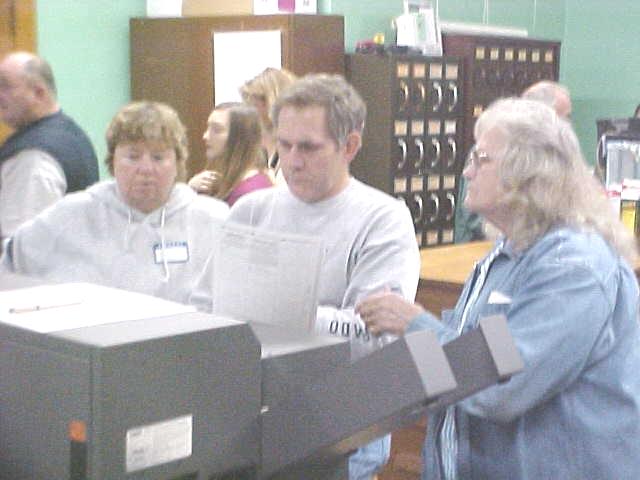 Nancy Bremar, Clerk Richard Kirby and Freda Whytsell operate vote counting machine
Courthouse workers help with counting
Rick Sampson talks with school board president Rick Fitzwater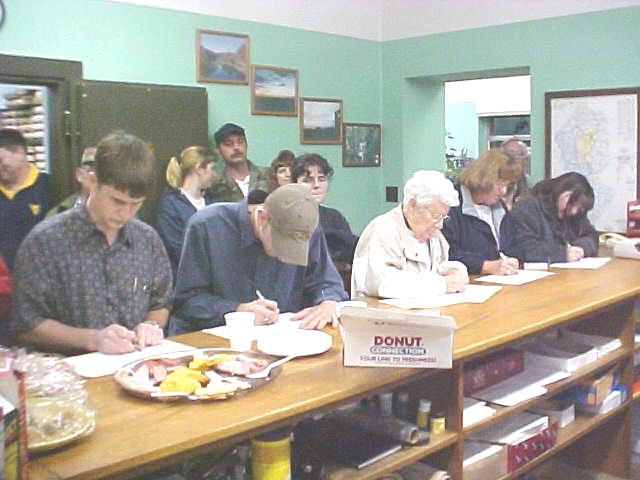 Keeping tabs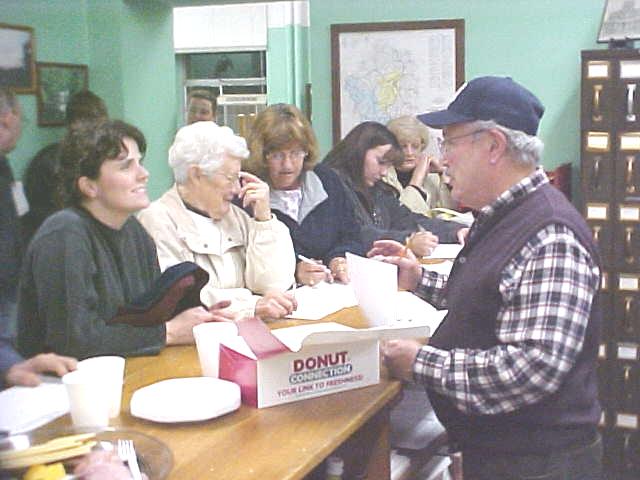 Gordon Rogers gives results to WVRC, between doughnuts