Article and photos by John Griffin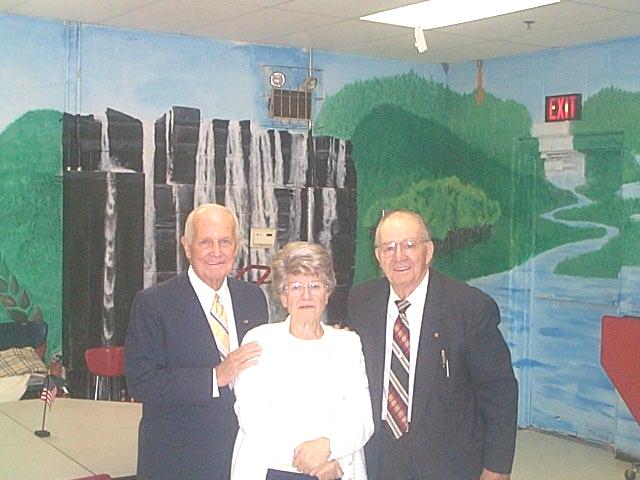 Former Governor Arch A. Moore, Jr., Wirt County Chairperson Betty Burchard, and MC Jack McFee
Wirt County Republicans gathered once more for their pre-election day dinner at the WCHS cafeteria in Elizabeth on Saturday evening at 7:00 PM. A fine meal was prepared by Chairperson Betty Burchard. After dinner, MC Harvey (Jack) McFee introduced former Governor Arch A. Moore, Jr., who presented a very inspirational talk on behalf of his daughter Shelly Moore Capito, who was busy campaigning for re-election to the House of Representatives in the eastern panhandle.
Local candidate Gary Bailey (running for a seat on the county commission) and Delegate Larry Border's (running for re-election) wife both spoke briefly, as did State Senator Donna Boley. Everyone was glad to see former Commissioner Richard Boice, who is steadily and surely recovering from a recent serious illness. The long time Windy Ridge resident is getting about nicely, and reports improving every day.
State Senator Donna Boley speaks briefly from her seat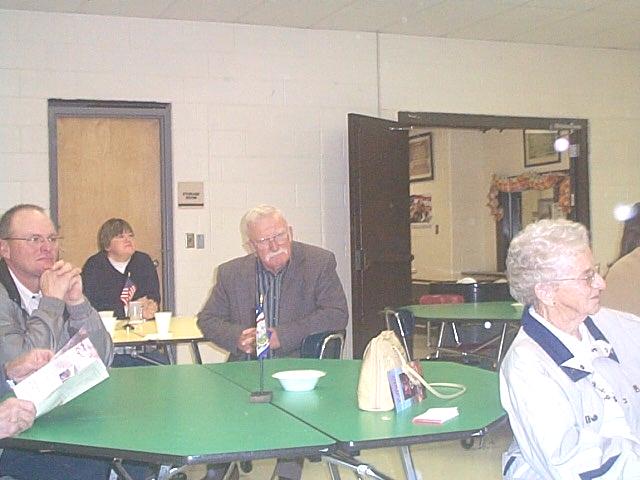 Windy Ridge resident Richard Boice listened attentatively as the former Governor addressed the assembly
Gov. and Mrs. Moore spent much of the evening mingling with the crowd, catching up on old acquaintances, posing for pictures, and making some new friends as well. In his speech rendered without notes, the former Governor talked about all the Shellies in his close-knit family - Shelly #1, his wife, Shelly #2, his daughter and our Congresswoman, and Shelly #3, his granddaughter. He indicated that there are three Arch's in the family, also.
He spoke most extensively of Shelly's (#2) accomplishments in the US House of Representatives. She "sponsored and pushed through the only prescription drug benefit bill submitted in the House, only to have it defeated when it reached the Senate." It would have provided meaningful prescription drug discounts for senior citizens. Her legislation has helped establish a fund to reconstruct the Pentagon after the terrorist attacks on 9/11, and has encouraged the expansion of clean coal technology.
In a rare turn, Arch related the story of his military service in World War II. He received his draft notice at his Moundsville, WV home. As a Combat Sergeant in charge of a platoon of 36 soldiers, he was sent to Europe. There his platoon was ordered to participate in an assault on one of Adolf Hitler's strongholds. 33 of the 36 were killed in action that day, and Arch himself was critically wounded in the face. Eleven hours later that night, a medic (believed, at this writing, to be none other than Dr. Robert W Coplin, of Elizabeth, West Virginia) found and rescued him from the battlefield. As he was getting ready to be transported on a stretcher from England to the states a Colonel encountered him, and told him "If you'll stay with me, son, I'll make you as good as new." Even though it took him a year to learn to talk again, the Colonel made good his promise.
It should be noted that several years later, then Gov. Moore would be called on to dedicate the health clinic in Elizabeth (the Coplin Memorial Community Health Clinic) in honor of the medic who rendered lifesaving aid to him "on the battlefield, above and beyond the call of duty," Dr. R. W. Coplin.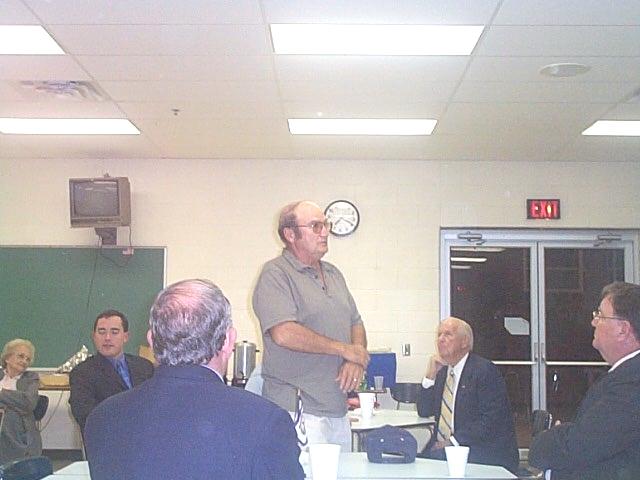 County Commission Candidate Gary Bailey addresses the crowd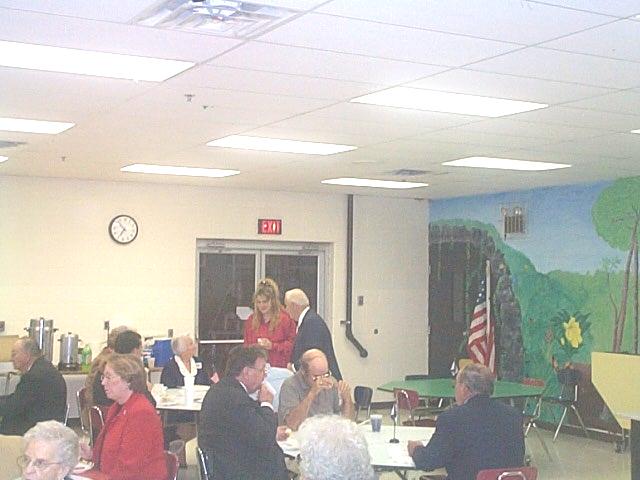 A perfect gentleman always, Gov. Moore and wife Shelly greet Aimee Grimmett at their dinner table