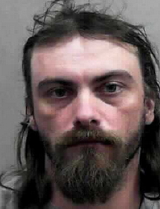 A Calhoun County Petit Jury returned a verdict of guilty against Dennis Sears, 39, of Nicut, for the sexual abuse of an 11-year-old female.

Calhoun authorities arrested Sears in March, 2015.

Sears appeared for sentencing this week following his conviction at jury trial in February, according to Prosecutor Shannon Johnson.

Sears was sentenced to ten (10) to twenty (20) years in the state penitentiary for Sexual Abuse by Parent, Guardian, or Custodian, a felony; fifteen (15) to thirty five (35) years in the state penitentiary for Sexual Assault in the First Degree, a felony; and to one (1) to five (5) years in the state penitentiary for Sexual Abuse in the First Degree, a felony.

These sentences are to be served consecutively for a total of twenty six (26) to sixty (60) years.

Sears was given credit for one thousand one hundred ninety (1190) days in jail. If granted parole, Mr. Sears will have to register for life as a sex offender and will be subject to fifty (50) years of extended sex offender supervision. Judge Anita Harold Ashley held Circuit Court on June 12 in Grantsville.

Prosecutor Johnson said James Blankenship appeared for a hearing on the state's motion for revocation of probation. Blankenship admitted that he had violated his probation and the court imposed his original sentence of one to three years in the state penitentiary for his conviction of Attempt to Commit a Felony.

Jason McVey, Chanelle Cottrell, Melissa West, Jamie Miller, Evan Hersman, Heather Davis, Travis Boggs, Thomas Cain, Angela Yoak, Henry Stutler, and John Klapka all appeared for arraignment.

The Court set their case for Pre-Trial Hearings on August 1st and for Jury Trial on August 21st. Jason Conrad appeared for arraignment. His case was set for Pre Trial Hearing on October 3rd and for Jury Trial on November 13th.

Bobby Blosser did not appear for his arraignment. The court issued a capias for his arrest.

Michael Hall, Jr., appeared for sentencing. The court indicated that it would not accept the plea agreement as proposed by the parties and set the matter for a status hearing on July 24, 2018 in Roane County.

The Court also heard twenty two Juvenile cases.

Judge Ashley also appeared in Calhoun Circuit Court for one juvenile case on June 13th.