By Alvin Engelke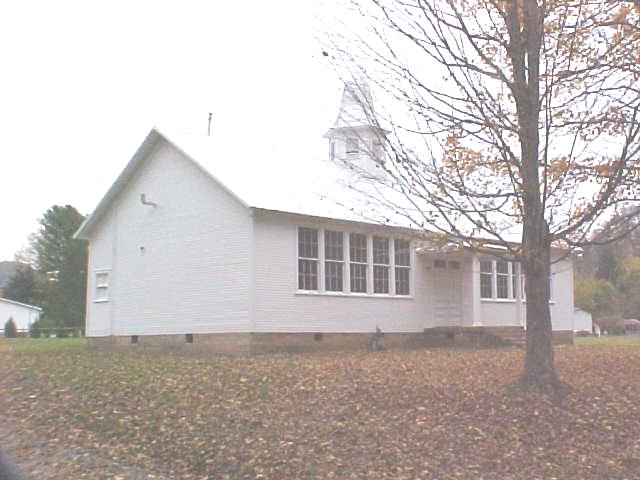 There will be a benefit auction Saturday, November 2, starting at 6 P. M. at the Creston Community Building. Those who come early can see the newly completed paint job on the entire outside and roof of the building. There will be lots of goodies, 50/50, grab bags, visiting, wheeling and dealing, etc. Proceeds go to help maintain the community building. For details call Donna Sue at 275-3202.
Under the careful supervision of foreman Joe Cunningham a handicapped ramp was built Saturday at the Burning Springs M. E. church. Bunk Starcher was the head carpenter and he was assisted by Jason MarChuck, Rick Ross, Kevin Dooley and J. Starcher. Mrs. Bunk provided the coffee and was the gofer while Alice Cunningham was the cook. The next step is to build a walk that goes up to the ramp. Linda Hall tried it out Sunday morning and found it to be satisfactory.
Rev. Juanita Lockhart filled her regular appointment Sunday at the Burning Springs and Bell Chapel M. E. churches.
Local residents are relieved that the Washington area shooters are caught, thanks to an all night trucker's radio program and an alert truck driver. The carnage was apparently caused by an illegal alien that the INS turned loose (someone there should be tried as an accomplice) and a "soldier" in "The Nation of Islam", a homegrown hate America group. The leftwing media had tried to implicate some "ignorant southern redneck" who was a loner and the actual culprits were stopped by the police 10 times and turned loose as they "did not fit the description".
Congresswoman Shelly Moore Capito will be speaking Saturday evening at the high school in Elizabeth. Details can be obtained by calling Betty at 275-8896.
It was learned that Meade-Westvaco, the area's largest landowner, is selling all their land in this part of the country. It is not known locally who is buying the land or what they have in mind.
It was also reported that Cabot Oil and Gas will be selling their facilities in the area. This would include Cranberry Pipe Line, Roaring Fork, etc.
Mr. & Mrs. George Engelke were visiting at the Alvin Engelke residence over the weekend. They, Jane & Anna Engelke, Keith Collins and his grandma Edwards all attended the benefit auction and dip & donate dinner Saturday evening at Camp Barbe.
Cap'n & Mrs. Spock were visiting relatives and friends in Kentucky and Indiana over the weekend.
Alvin Engelke was calling on Milford Wilkinson one day last week. Mr. Wilkinson recalled how two of his brothers gave all they had during World War II to provide freedom for America and now there are those who would take it all away, including, but not limited to those who would take away our guns. Mr. Wilkinson noted that he read the Creston News. The Old Furniture Salesman, who is sometimes called "Uncle Roy" in Fanny Seiler's column, went Whistle Pig hunting with Chris Nicholas on the Kevak farm at Sanoma. Things took a weird turn when Buck Buck, a pet 3 ½ year old pet deer got into a fight [and lost] with an intruding stag. Then is when Buck Buck noticed the distinguished furniture salesman and came after him. Chris said "Give him some candy." A piece was found but the delay didn't last long as Buck Buck allowed that the tall man had no business in the area. Our would be ground hog hunter got Buck Buck by the antlers but things looked bad. Finally Chris had to take a club and hit Buck Buck up the side of the head to allow the old salesman to escape with only a few scratches, etc.
The local area received some more gentle rain which brought down many leaves. Some maples are at their best although the oaks haven't turned much yet. In fact, Creston has yet to have a killing frost although areas away from the river have had some frost.
Bill, Chris & Brian Shreve, Dave "Red" Franks, John Starcher, Ronnie, Rodney Dillon, Dave Belcher and Michelle Dallessandro were all on hand for the clean out and plugging work of the old, abandoned salt sand well on the West Fork below the mouth of Ann's Run. The comely Michelle works for the EPA and is based in Pittsburgh. Bill must have had all his equipment on location including the "Heartbreak Hotel". After plugging the old Heasley Brothers well they went to Sanoma and plugged a well on the Bruce Bell farm, the location of the famous Newburgh well drilled circa 1967.
Local residents are having problems resetting their biological clocks.