By Bob Weaver

It was "old movies" night Monday evening for members of the Calhoun Historical Society. From the fabulous 1950's through the 60's, the screen lit up with images of old CHS homecoming parades, street scenes of Grantsville, church picnics and the 1956 Calhoun Centennial. The group barely made a dent in viewing the old eight and sixteen millimeter film shot in Calhoun County this last century, some of them in black and white.

Harry Beall and his wife, members of the Society, are working on a project for the Society to preserve the old film, initially transferring it to video tape and then to CD. They have opened Beall Audio-Visual, a new business in their home near Grantsville.

Much of the film viewed Monday was loaned by Esther Parsons of Mt. Zion.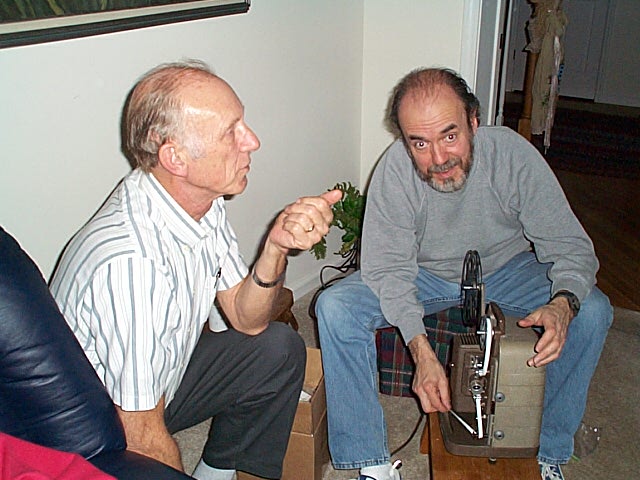 Jerry Collins and Harry Beall load the old projector

The Society has already previewed a number of films and lots more are to come, including some dating back to the 1930's.There are lots of old football films out there, according to one member.

One of the films showed the original movie houses in Grantsville on Court Street, along with Grantsville's second theater, the Kanawha, which closed in 1952. Pictures of various floods which surrounded the old Calhoun High School in the 50's and the great Grantsville fire in the 60's are to come. Then there are action pictures of the first two fire trucks in the county.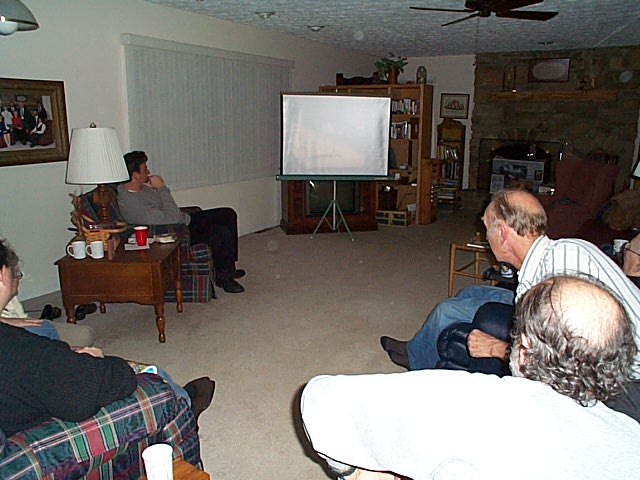 Screen Lights Up With Old Calhoun Scenes

Beall and members of the Society are anxiously seeking old movies which represent life in the county during the 1900's. (EDITORS NOTE: You may contact the Hur Herald to help with this project if you have old movies) Some of the highlights may be made available to the public.

The "Night at the Movies" meeting was held at the home of Carl and Helen Morris. Another highlight being a pot-luck dinner.