By Donnie Price

On October 19 at 4:30 a.m. a group of 32 Lights On! participants voyaged from CCMHS to set afloat on the great New River.

We arrived at ACE Adventures at 7:15 a.m. to receive instructions and the much needed wet suits, helmets and paddles. We then loaded the shuttle bus provided by ACE that took us through the winding roads of Fayette County, leading us through the New River Gorge to the New River.

While on the shuttle bus our guides provided much information that we needed prior to beginning the river trip. I must say once we looked over the mountain and saw the rapids we gave our speakers our undivided attention. Each boat had 8 gallant paddlers and one very knowledgeable guide, we were provided additional instruction while floating to our first rapid.

I recall "Captain" Mike Ritchie stating that he thought he heard something that sounded like a Jet Plane, and then it appeared...our first class 4 rapid.

The first boat through the rapid had on board a few members of the local YA YA Girls, Deb Goff, Bette Ritchie and Kim Batten, these brave ladies set the stage for us to follow. It was from that point that we were elated to find wonderful whitewater rapids one right after another, ranging from Class 2 to Class 5.

After rafting we stopped at a landing under the New River Gorge Bridge and watched the Base Jumpers para-sail from above. Our view of the Bridge Day event was spectacular. We watched many adventurous participants repel from the near 900' high span. It was amazing to watch them climb their way back to the top of the bridge using the same rope from which they ascended.

After spending time watching the show from above and having lunch, we then caught our shuttle bus and began our trek back home. The trip was an adventure that everyone enjoyed and as many participants commented, one that they would never forget.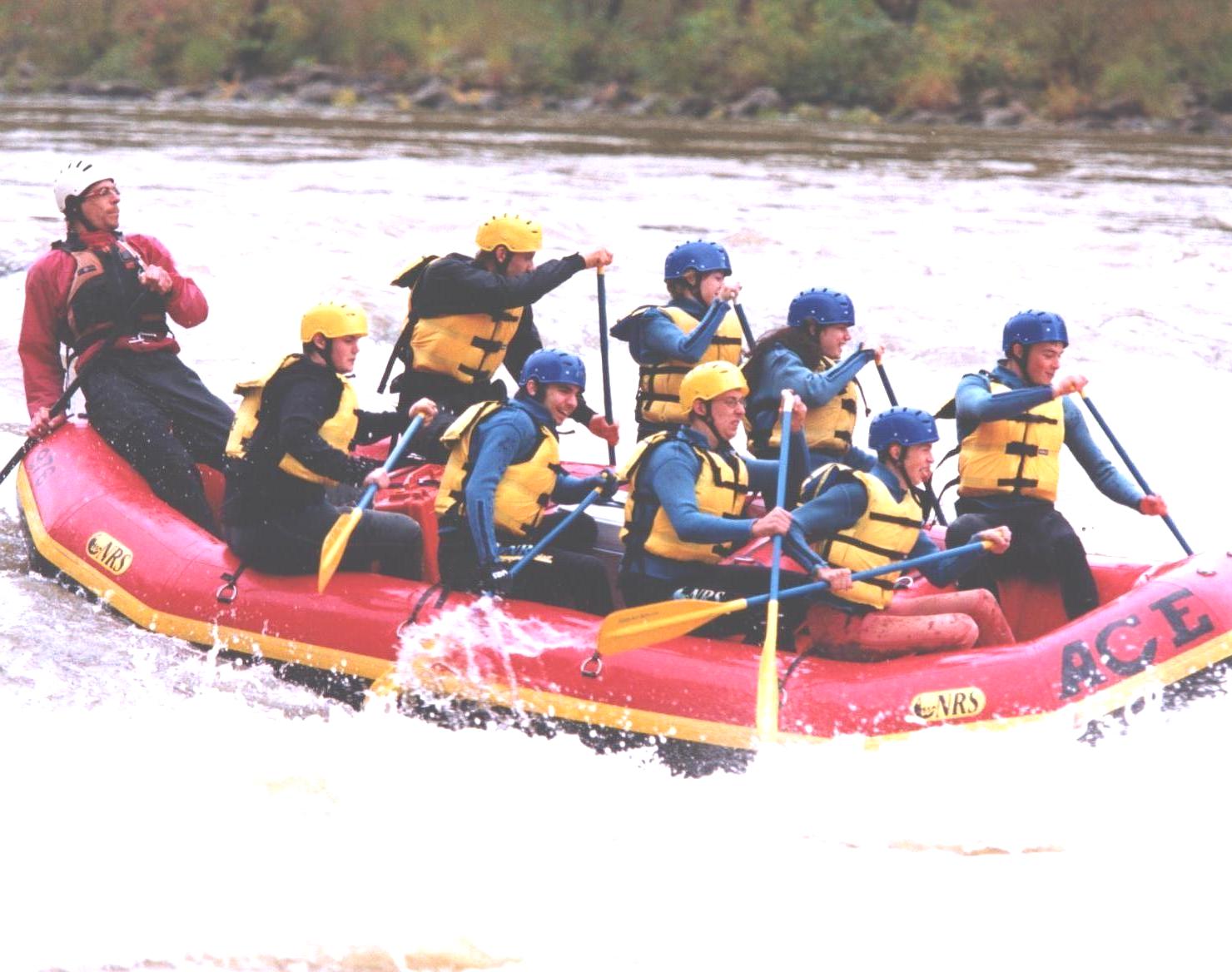 Starboard side of the boat from front to back, Tyson Price, Patrick Webb, Zeb Ritchie and Steve Cason
Port side of the boat from front to back, Pat Wildfire, Cierra Yoak, Susan Sullivan, Espe Clothier
Other participants were, Tim Whipkey, Deb Goff, Kim Batten, Bette Ritchie, Amber Price, David Trippett, Kristy Callahan, Travis Callahan, Leisa Prunty, Justin Hartshorn, Dennis McCumbers, Lisa Siegrist, April Young, Mike Ritchie, Teresa Ritchie, Dan Cosgrove, Robin Johnson, Jennifer Hartz, Michelle Hill, Randy Ball, Danny Bunch, John Sampson and Patty Laughlin.