UPDATE - Calhoun Superintendent of Schools Tim Woodward praised Calhoun teachers, administrators and students for marked improvement with the 2013-14 Westest results at Monday night's board meeting.

"This community should be proud," he said.

He recognized Arnoldsburg Elementary school and students for being ranked 29th of 401 elementary schools in WV, according to SchoolDigger, giving significant credit to the "Save-the-Children" program, which he is seeking to be expanded to Pleasant Hill Elementary.

View local YouTube video, narrated by award winning actress and Board of Trustees member for Save-the-Chidren, Jennifer Garner and Tracey Weaver Keaton of Spencer youtube.com

Monday's meeting was primarily to announce Woodward's three-year deficit $1.3 million reduction plan.

ORIGINAL STORY 12/15 By Dianne Weaver

The report card on Calhoun Schools "Shows the positive in our students, teachers, and community, a major up," according to Calhoun Superintendent of Schools Tim Woodward, saying the community should be proud.

Woodward declined a public information request to comment further on the state's findings, saying, "We don't know when WVDE will release all information".

School officials say major efforts are being made to improve academic outcomes.

The 2013-14 Westest scores have been withheld since August.

Arnoldsburg School has the highest rating given WV schools - a Success School, and Pleasant Hill Elementary and Calhoun Middle-High School have the second highest rating as Transitional Schools.

With the latest ratings, there are 119 success schools, 180 transitional schools, 215 support schools, 97 focus schools and 29 priority schools.

Perhaps the most difficult statistic is the disparity rating of Arnoldsburg Elementary's high performance at 29th and Pleasant Hill Elementary at 256th of the states 401 elementary schools, according to SchoolDigger.

The latest report card indicates improvement for Calhoun Schools, using the state's latest assessment model, but WV Westest II scores declined from last year, the WVDE of Education citing multiple reasons.

The Nation's Report Card has shown the Mountain State to be among the worst performing schools in the USA.

The changing of the methods of statistically analysis by educational officials makes it difficult to make sense of academic outcomes for West Virginia students over a period of years.

In West Virginia we have transcended from the cut-line pass-fail system of No Children Left Behind to the current "improvement model," to the 2015 debut of an A-F grading system of outcomes, which sounds promising.

CALHOUN SCHOOLS REPORT CARDS: % Proficiency In Subjects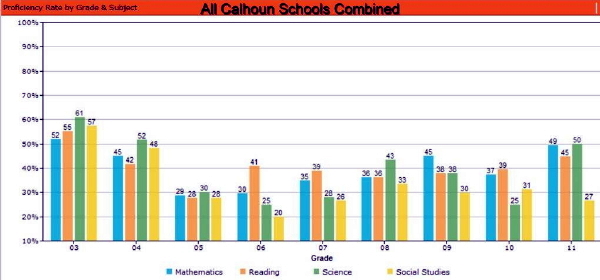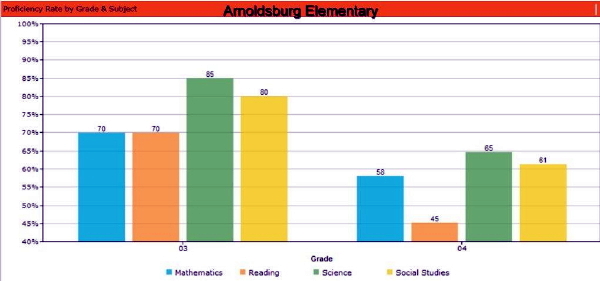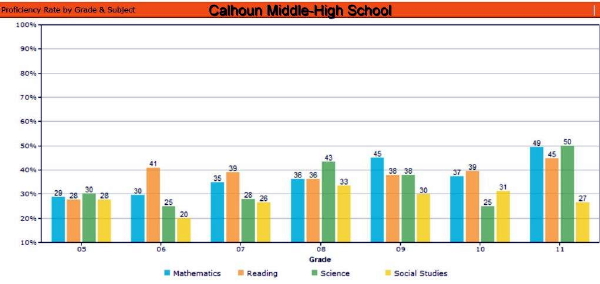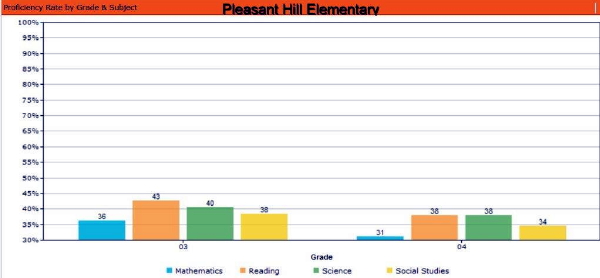 The independent SchoolDigger site rates schools across the USA, based on statistics received from the WVDE, Arnoldsburg Elementary is ranked 29th of 401 state elementary schools, Calhoun-Middle High School is ranked 59th among 114 high schools, and Pleasant Hill Elementary is ranked 256th of 401 state elementary schools.
Superintendent Woodward says, according to the independent SchoolDigger site, the Calhoun School District is now among the best performing school systems in West Virginia, rising from the worst performing in 2011 to 11th among the 55 county school systems.
The 11th rating, however, does not include statistics from Calhoun Middle-High School, according to the SchoolDigger site, and could be flawed.
SchoolDigger uses stats provided by school systems.
The WVDE says it will not release the numerical standings of school systems and schools, although they have such a list, according to reports issued in 2011.
About 50% of students in WV schools are not proficient in math and reading.
The scores, locally and in West Virginia, much lower in social studies, indicating a lack of knowledge in government, civics and history, a scary indicator for the future of the nations democratic form of government.
Attempts to get further clarity on the Report Card was not available from the Calhoun School system.
Among the biggest challenges facing Calhoun Schools is financially operating the system and recruiting and retaining qualified teachers.
READ CALHOUN ASSESSMENTS: zoomwv.k12.wv.us