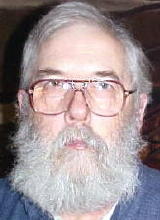 By Alvin Engelke
alvinengelke@hotmail.com

Rev. Lee Williams brought the message at the Burning Springs M. E. church.

Lewis Smith's daughter Kathryn Sayre recently underwent emergency appendectomy surgery and she would appreciate cards at 1700 Ocean Drive #204, Vero Beach, Florida 32963.

The Annamoriah Cowpoke and Steve were calling on Bob Basnett and Euell Russell at the Miletree Center in Spencer.

Monday is the official start of the annual madness known as firearms deer season. Everywhere one looks there are pickups with four wheelers and trucks pulling trailers with four wheelers. All of them are going to deer camp to get the "thirty point buck" or at least a trophy rack and the bragging rights that go with such. For certain the deer locally are thick and even if the herd was to be decimated there would be more than plenty left. Some folks noted that they had lots of empty canning jars that needed to be filled with tasty venison and with the inflated food prices now afflicting the nation the canned meat has much greater actual value, in addition to the healthful nature of deer meat. Some folks have been feasting on deer jerky as a result of bow season.

There have already been some problems with those who would willfully trespass on the lands of others without permission and some who have permits have the right to deal with those who are where they do not belong.

On Monday evening the local area received some snow causing roads in Wirt & Jackson Counties to be very slippery, treacherous and dangerous. State road workers have been told that all the salt for the season is now in the sheds and there is no more to be had. Also drivers were told that they must set their Dickey Johns at 75 lb. of salt/lane mile and the numerous middle managers will be checking on them to make sure they do not turn up the dials for there will be punishment up to and including termination. For sake of comparison the State of Ohio was placing 400 lb./lane mile of salt during a storm this week and the turnpike authority has turned that roadway white with salt. Some feel that this is a move by the highway biggies to get the legislators to give them more money. Of course the highway department could have, years ago, purchased ground speed spreaders which cut the need for salt in half (keeps the salt from bouncing off the road) and there is available for free all the brine that one would ever need to treat the roadways. However, the salt lobby has connections with the ruling oligarchy so the taxpayers must purchase "their" salt.

Alvie Ferrell is visiting with Joe Ferrell out on the Umstead.

Some folks from the Big Kanawha valley were checking out hunting sites down in Fishpot.

The big eared one who had said previously that he wasn't the emperor changed his mind, waved his wand and legalized millions of illegal aliens from all over the world that have snuck into America for various reasons, some being quite nefarious. Criminals who are "to be deported" do not include drug dealers, rapists and such. Obviously this is part of the "fundamental transformation" that he mentioned early on.

Emily "Squirrel Killer" Basnett was calling in Creston over the weekend. Next year she will be 8 and can legally go deer hunting. She was impressed by a feline that combed a fellow's beard.

Cattle prices continue to set records and out in the Midwest there was a bumper crop of corn and soya beans which will be good for feeding livestock and poultry.

Charles Russell was consulting with Dr. "Suresh" at Minnie Hamilton and was pronounced "fit as a fiddle". Charles was also calling on Mr. & Mrs. Parris Parsons, Ray Gumm and brother Euell. Edith Kittle's roommate Gladys Cain is still no better.

Some local folks have learned that their purchasing cards have been "compromised" by others. One lady found this out when in the checkout lane and her friend who was with her offered to pay the difference but the woman who was next to her in line offered to and paid her entire bill and refused repayment showing that there are some really good people out and about.

Nancy Engelke was consulting with her physician.

Corky deMarco who is the spokesman for the big oil and gas companies noted that there is lots of natural gas in the Trenton and Black River formations that can be unlocked with horizontal drilling and that it is "deeper than the Utica". The Trenton is just under the Utica and the Black River is just under the Trenton. Back in 1999 & 2000 some spectacular wells were drilled in that formation in Roane County but with the decline in the price of natural gas the justification of drilling dry gas wells has "declined". The price for September gas was $1.27/mmbtu (dekatherm). This would likely be he equivalent of, back some years ago, selling natural gas at 6 cents/mcf.

Halliburton, the company Dick Cheney saved from financial ruin before he became vice president, purchased Baker Hughes for $34.6 billion. Speaking of sales it was learned that Triad Hunter sold some or all of their oil and gas fields in Roane County to Mike Ross & Mike Shaver.

The price for local Pennsylvania grade crude rose to $75.51/bbl. with drip fetching $53.01, Marcellus & Utica light $69.51 and medium $75.51/bbl.

The views and opinions expressed herein are those of the author and do not necessarily reflect the views of the Hur Herald.