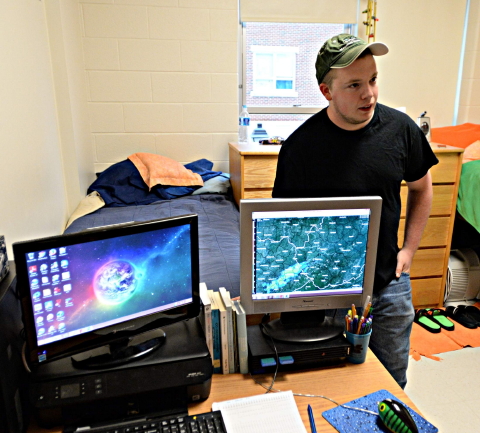 Joseph Fitzwater runs the weather forecast website
"Fitzweather" from his dorm room at Marshall University.
Photo by Tom Hindman/Daily Mail
Marshall Student Follows Passion For Weather By Zack Harold - Daily Mail Life Editor
HUNTINGTON - Joseph Fitzwater's dorm room is not a typical college student living space.
For one thing, it's clean.
The Marshall University junior keeps his twin bed made and his clothes picked up.
The walls are sparsely decorated, aside from a few NASCAR posters and maps on the walls, and a small wind chime made from diecast cars hanging above his dresser.
His desk is a little crowded, but only because it holds two computer monitors.
The monitor on the right shows a weather radar map with blobs of green precipitation moving across the map. It's just like the radar maps you see on television newscasts.
This is the other strange thing about Fitzwater's room.
The 10-by-14-foot space is the international headquarters for Fitzweather.com, the weather forecast website he has run for the last three years.
Fitzwater, who is majoring in geology with a minor in meteorology, updates the site at least once a day but sometimes makes as many as five posts on busy weather days...
READ REST OF STORY: Marshall Student Follows Passion For Weather By Zack Harold - Daily Mail Life Editor