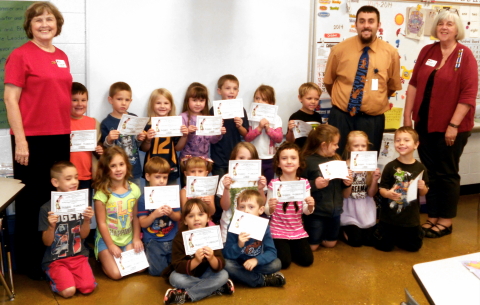 Front (L-R) Jewell Nichols, Charter Cottrell; Middle (L-R)
Cayden Dennis, Olivia Zwoll, Aayden Rush, Morgan Ferrell,
Miley Thomas, Allasoun Harrison, Raylee Cunningham, Peyten
McKown, Orion Swearingen; Back (L-R) Lorraine Bailey, Trevor
Butler, Eli Bailey, Laney Arnold, Brylee Brenneman, Alex Mckown,
Summer Sampson, Travis Thomas, Mr. McCumbers, Ruth Mooney

Submitted by Lorraine Bailey

Arnoldsburg Elementary kindergarten classes had special guests recently, Mrs. Lorraine Bailey and Mrs. Ruth Mooney of the Elk River Chapter of the Daughters of the American Revolution, visited the classrooms.

The brief program centered around the flag of our country. Topics included good manners, how each star represents a state, places the flag is flown, how to show respect, what to do with an old, tattered flag, saluting the flag and what we mean when we recite the first line of the Pledge of Allegiance to the Flag of the United States of America.

At the conclusion of the presentation, the children recited the pledge and received certificates and additional items to take home.

For additional information about the flag program or the Daughters of the American Revolution (DAR), please call 304.765.7478 or 304.655.8549.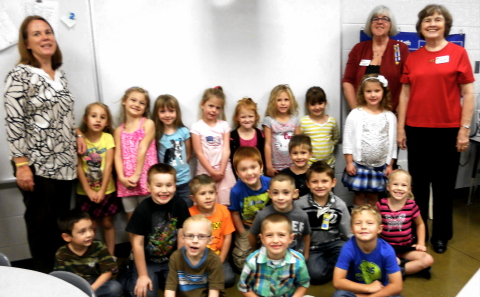 Front (L-R) Gage Allen, Mark Zion, Brennen Carpenter;
Middle (L-R) Wyatt McCumbers, Brayden Tawney, Wyatt Knicely,
Kendrick Yoak, Payden Dennis, Tyler Butler, Garrett Carpenter,
Mia Starcher; Back (L-R) Mrs. Fitzwater, Destiny Langford, Kadence
Remele, Hailey Poage, Zorianna Hudson, Kyleigh Morris, Mahailah
Cunningham, Addison Laughlin, Lorraine Bailey, Ruth Mooney