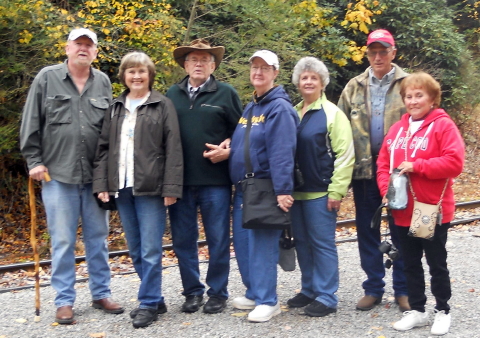 L-R: Kenny Bailey, Lorraine Bailey, Kermit Saunders, Juanita
Boggs-Saunders, Yvonne Church, Fred Church, and Shirley Ball
The Glamour Girls, local chapter of the Red Hat Society took their hubbies along on a train ride October 15.
The weather was great, with no rain, so no fog either. The leaves were beautiful, as were the river and mountain views.
Everyone boarded at the Elkins railroad station at 11:00 a.m. and went as far as the High Falls of the Cheat River. The group was told the water was the highest it has been in over 20 years. The water was traveling very fast and it was fierce as it was going over the edge.
Everyone had a very nice time. The group enjoyed a nice luncheon during the train ride.
The next scheduled get together is Wednesday, November 19th. Some of the gals plan on attending the Halloween party on Oct. 31st, hosted by the Red Hat Sunny Cal Gals. Sounds like fun.