Minnie Hamilton Health System (MHHS) and Teresa Ritchie, DNP, FNP, BP, announced earlier her decision to seek new endeavors which will enable her to spend additional time with her family.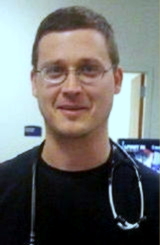 In order to provide effective continuation of care for Teresa's patients, Chadwick Smith, MD (left) will complete any necessary follow-up.
However, patients should feel free to establish with another healthcare provider of their choosing. We greatly appreciate the patience and understanding of our patients during this transition period.
If you would like help choosing another healthcare provider or to schedule an appointment, contact Minnie Hamilton Health System at 304-354-9244.
MHHS said Teresa has been a staple in this community and organization for decades, and this announcement and decision, of course, is not easy.
Steve Whited, CEO, stated, "It has been a pleasure as well as an honor to work with Teresa Ritchie."
"MHHS would like to sincerely thank Teresa for years of service to the community, and we wish her the best in everything to come." said Whited.