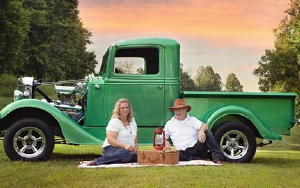 (picture courtesy of Mindy Barr Photography)
(Herbert) Wayne & Earlene (Cain) Toney will be celebrating their 50th Wedding Anniversary on October 17, 2014. They were married Oct 17, 1964 at Grantsville's First Baptist Church and reside in Munday, WV.
They have seven children, Brenda Arthur, Kelly Moore, Herbie (Herbert) Toney, Tracy Murphy, Jeffrey Toney, Crystal Toney and Bryan Toney; fifteen grandchildren, Jessica Moore Wright, Erica Toney Gallimore, Ashley Arthur, Joshua Toney, Megan Moore, Mackenzie Kelley, Cody Murphy, Dana Toney, Matthew Toney, Mikayla Toney, Kaitlyn Toney, Brayden Toney, Lexie Toney, Jacob Toney and Chase Toney; and two great grandchildren, Kaylin and Aaron Wright.
The family is extending an invitation to anyone who would like to help celebrate Wayne & Earlene's accomplishment of their 50th Anniversary. A celebration will be held on Saturday, Oct 18, 2014 at the Wirt County Committee on Aging building in Elizabeth, WV starting at 2 p.m. There will be food and refreshments available. All are welcome to attend.
See MUNDAY'S WAYNE TONEY IS AN 'AMERICAN PICKER' - Munday Had A Funeral Parlor, Frequently Robbed Shimer's Store