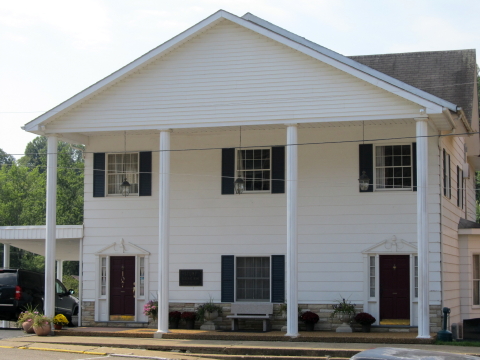 Current Stump Funeral Home in Grantsville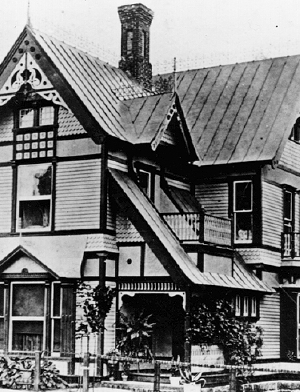 Historic J.W. Pell Home on Market St.
in Grantsville. Now Stump Funeral Home
(Photo Courtesy of Lorentz Carr,
Jr. and Sue Pruett Hamilton)
A historical Grantsville landmark, the Pell House, owned by the Stump Funeral Home is for sale, the business announcing they will relocate.
The Pell House, likely dating back to post Civil War times, has been used for the funeral business for many years. It is listed for sale at $685,000 by United Country Real Estate - Flatwoods
"We are not selling the Stump Funeral Home, just our current physical location in Grantsville. We are in the early stages of transitioning to a modern facility with easier accessibility for those with disabilities to better serve our friends and families in the community," according to the funeral home. (See additional story)
The Stump mortuary itself is just as historical, one of Calhoun's longest running business, operating since 1897.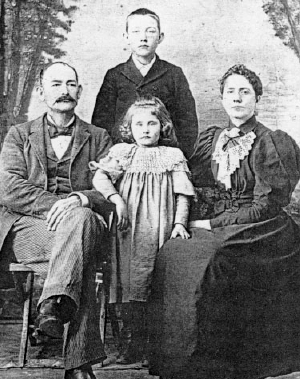 Julius W. and Florence Stump Pell Family
Front, left to right: Julius W. Pell, Ruth
Pell, Florence Stump Pell; Back: Fred Pell
(Photo Courtesy of Lorentz Carr, Jr. and Sue Pruett Hamilton)

The original structure was an example of Victorian architecture owned by the youngest Union soldier in the Civil War, Julius W. Pell of Grantsville.

Julius Pell was the son of W. F. Pell, a Colonel in the 119th Virginia Militia, enlisted in the WV Volunteer Infantry as a drummer boy at the young age of eleven and served approximately three years.

See ELEVEN-YEAR-OLD CIVIL WAR DRUMMER BOY SPRUNG FROM CALHOUN

Julius taught school, owned and operated a mercantile business located next to his home, dabbling in real estate, oil and gas, and was the Vice President of the Calhoun County Bank and a member of both the town council and the Board of Education.

The Pell house has undergone numerous upgrades by the Stump family for use as a mortuary, and has over 7,000 square feet.