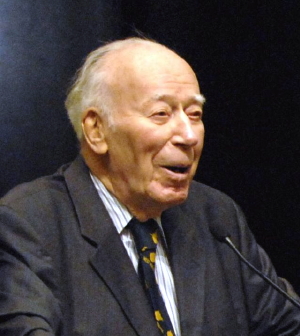 Former West Virginia Secretary of State and Congressman Ken Hechler has died at 102.
Hechler was an Army combat historian during World War II and served in the Truman White House, writing speeches among other duties. He served in the U.S. House between 1959 and 1976 and was secretary of state from 1985 to 2001.
The Democrat says that he's always had a devotion to public service. In 2010 he lost a bid for U.S. Senate after the death of Robert C. Byrd. He was running because he was opposed to the mountaintop removal method of mining, but that did not fare well with voters.
He was drafted into the United States Army during World War II. After graduation from Armored Force Officer Candidate School, and was assigned as a combat historian in the European Theater of Operations, and following the war was assigned to interview many of the defendants prior to the Nuremberg Trials, including Hermann Göring.
He was also attached to the 9th Armored Division when one of its infantry-tank task forces captured the Ludendorff Bridge spanning the Rhine river at Remagen, Germany.
He interviewed several of both the US and German soldiers involved, and in 1957 published the book "The Bridge at Remagen" which was adapted into a film in 1969.
He will likely be remembered by country voters for traveling around the state in his old Jeep.
Editors Note: The last time I spoke to Dr. Heckler at the 2011 reliving of "The Battle of Blair Mountain," he came to participate in a wheelchair. I told him that those protesting the event had smeared lard on all the rocks that would have allowed participates to sit down. He replied, "That's a lot better than getting beat up," recalling earlier environmental rallies where he got thumped. Heckler was the real deal, a broad history of legislation for WV miners, although they turned on him. - Bob Weaver
See NASA SCIENTIST JAMES HANSEN, ACTRESS DARYL HANNA, CONGRESSMAN KEN HECHLER ARRESTED AT MARSH FORK RALLY - 30 Arrested At Mountaintop Mining Protest, Tensions High
90 YEARS LATER: BATTLE AT BLAIR MOUNTAIN CONTINUES - Crimes Against West Virginians And Nature
DAVE PEYTON 2014: WEST VIRGINIA GETS WORSE, DESPERATE AND DEADLY - Innate Fatalism?