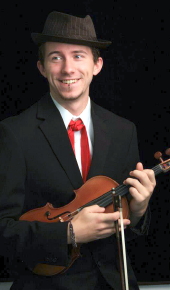 GLENVILLE, WV - Glenville State College Bluegrass Music major Robbie Mann will perform his Senior Fiddle Recital on Sunday, September 21st at 3:00 p.m. in the GSC Fine Arts Center Auditorium. The recital is free to attend and open to the public.

Mann, from Berkeley Springs (Morgan County) West Virginia, began studying classical violin at the Shenandoah University for the Arts at age six. At the age of 13, Mann changed his focus from classical studies to Appalachian folk music under the tutelage of master fiddler Joe Hermann.

When Mann turned 16 years old he was introduced to Buddy Griffin who, at the time, was directing GSC's Bluegrass Program. Mann auditioned for the GSC Bluegrass Band and eventually enrolled in the four-year Bluegrass Music degree program at GSC where he is entering his senior year.

"Robbie first came to us playing the old-time fiddle style. Buddy Griffin and I have been able to work with him on various instruments throughout his career here. It's exciting to watch him mature musically. There is no doubt that he and those accompanying him have been working extremely hard this semester to put on a great Senior Recital. We would like to invite everyone out for a free evening of bluegrass influenced music," said GSC Bluegrass Music Program Director Megan Darby.

"Being a Bluegrass Major at GSC has given me the resources and knowledge necessary to venture into the world as a performing musician with confidence," said Mann.

During his recital Mann will be joined by GSC Adjunct Instructor of Piano and Fine Arts Department accompanist Anita White, GSC's Bluegrass Band, and The Allegheny Ramblers, a strings-based folk band made up of Mann and three other GSC students.

For more information about the recital or the GSC Bluegrass Degree Program, contact Darby at Megan.Darby@glenville.edu or (304)462-6347.