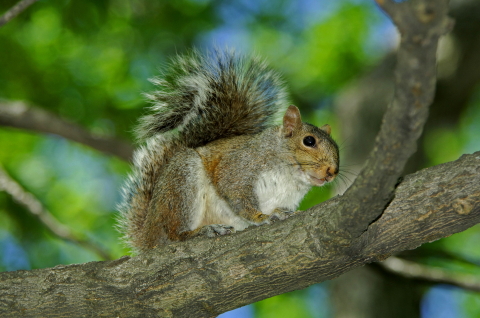 Squirrel season opens statewide Sept. 13, the first of many small game hunting seasons opening in West Virginia through the rest of this year
SOUTH CHARLESTON, W.Va. – The statewide squirrel season opens Saturday, Sept. 13. "Squirrel season is the first of numerous small game seasons and is very popular with many West Virginia sportsmen," said Curtis I. Taylor, Chief of the Division of Natural Resources Wildlife Resources Section. "It is a time when hunters can participate in one of their favorite sports and also enjoy the fall beauty of the Mountain State."
The ruffed grouse season opens Oct. 18, 2014, and closes Feb. 28, 2015. The daily bag limit for grouse is four. Grouse hunters should look for areas that provide ample cover and soft mast species such as grape, hawthorn and greenbrier. For additional information on mast conditions, hunters should consult the 2014 DNR Mast Survey which will be available around the first of October.
Hunting season for raccoons opens Oct. 18, 2014 at 6 p.m. and continues through Feb. 28, 2015. Raccoon populations should be similar to previous years. Hunters and their hounds should have a very successful season after locating good food sources. Raccoon hunters are reminded that the daily bag limit is four.
Opening day of cottontail rabbit season is Nov. 1, 2014. With the better-than-average rainfall this summer, rabbit populations are expected to be higher with the increase of food and cover. Old fields and brushy pastures are the best habitat types in which to rabbit hunt.
Snowshoe hare, bobwhite quail, ring-necked pheasant, bobcat, red fox, and gray fox hunting seasons also open Nov. 1, 2014. Hunters should be aware of daily bag and season possession limits for each species.
Night hunting with lights for foxes will open Jan. 1, 2015, and continues until Feb. 28, 2015.
Nov. 1, 2014, marks the opening of trapping season for furbearing animals in West Virginia. Populations of beaver, bobcat, fox, mink, otter and raccoon are good, and trappers should be very successful. Trappers are reminded to check season closing dates as they vary for the different species.
For more complete information on season dates and bag limits, consult the 2014–2015 West Virginia Hunting and Trapping Regulations brochure available at all hunting and fishing license agents, DNR district offices and the DNR website: www.wvdnr.gov