Gilmer County Farm Bureau will be hosting their first Educational Dinner Meeting on September 30 at the Gilmer County Senior Citizens Center in Glenville. The Educational Meeting is open to the public and everyone is encouraged to attend.

The dinner will begin at 6:00 p.m. with a $5 cover charge for the meal to be collected at the door, followed by the Fall/Winter Pasture Management Program.

You must pre-register for the meal by contacting Pat Nestor at 304-462-4318 or email at pinestor1@gmail.com by September 22.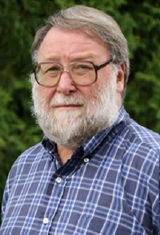 Guest Speaker for this dinner will be Gilmer native, Dr. H.R. Scott (right) originally from the Linn Area in Gilmer County, who will be talking extensively about Fall/Winter Pasture Management. Dr. Scott is currently holding the position of Monongalia County Extension Agent.
He is very knowledgeable in forages, fertilization, pesticides, livestock production, and invasive species. Dr. Scott attended Gilmer County High School, graduated Glenville State College with a Bachelor of Science Degree in Biology (1974), and received his Master of Science Degree from WVU (1976).
Call Pat Nestor at 304-462-4318 if you want more information, directions to the center or questions about reservations.