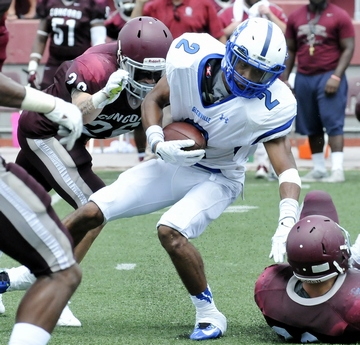 Game leading rusher Rahmann Lee
struggles for a gain on this play

Story and Photos by Drew Moody

Concord's strong passing game coupled with weak Pioneer defensive coverage highlighted the first half.

A bonus mid-way through the second quarter was Mountain Lions kicker Andy Ellington (3) setting up for a field goal, but instead threw a 27-yard touchdown pass to Davin McGill (1) catching GSC's defense off guard.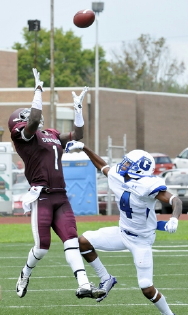 (Left) Wide receiver Davon McGill (1) prepares to catch this long pass as defensive back Andre Dalton (4) is out of position to prevent the reception. No interference whistle was blown although Dalton pushed the receiver as he was catching the ball.
The Pioneer's only answer in the early going was a 22-yard touchdown run by 2013 conference leading running back Rahmann Lee (2).
Concord's Angus Harper scored two of his four short-yardage touchdowns before for the break.
Eliington added two field goals, one with nine seconds left, giving Concord a 33-6 lead at halftime.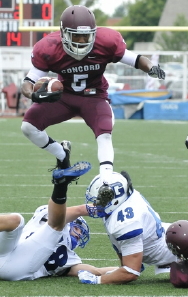 (Right) Wide receiver T.J. Smith (5) hurdles over the GSC defense on the way to scoring in the first half.
Lee scored twice more by game's end, while GSC's Tevin Drake (1) scored on a 74-yard run.
Glenville's defensive line permitted three fourth-down conversions.
The Mountain Lions almost doubled GSC's passing yardage, 326 vs 177.
Concord's Brian Novak completed 20 of 32 with one interception. Glenville's Sean Steele connected on 12 of 23.
Rahmann Lee led the game's total rushing yards with 155. Tevin Drake followed closely with 102. Cal Jones led Concord with 97 yards rushing.