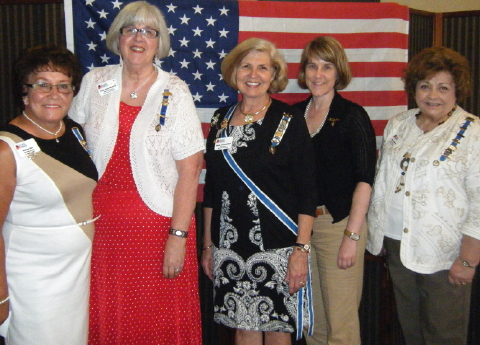 (L-R) Shirley Ball, Ruth Mooney, Barby
Frankenberry, Jill Mooney and Marilyn Rogers
Four members from the local Elk River Daughters of the American Revolution Chapter attended an area meeting recently held in Philippi, WV. Those attending were Shirley Ball, Jill Mooney, Ruth Mooney and Marilyn Rogers. The Central District meeting was hosted by the James Barbour DAR Chapter and Diana Davide, Regent.
Eleven chapters were represented at the meeting which included: Woodburn, Blackwater, Trans-Allegheny, John Hart, Col. Morgan Morgan, Col. Zackquill Morgan, Elizabeth Zane, Daniel Davisson, Elizabeth L. Hagans-Col. John Evans, James Barbour and Elk River.
Guest speaker was Barby Frankenberry, West Virginia State Regent. She reported on the President General's National projects and then shared with the group her state projects. Her biggest project is called "Here's to Jackson's Mill". Seventy-five years ago the West Virginia Daughters raised money to pay for the Amphitheater at Jackson's Mill.
There is a plaque at the site which has badly deteriorated. Mrs. Frankenberry's project is to refurbish the plaque at a cost of approximately $700.00, plus install some green granite benches around the inside wall facing the amphitheater's stage. Each bench will cost $1,400.00. She is calling on the state DAR to raise money to pay for these improvements. On July 7, 2015 there will be a rededication ceremony at the site.
Another state project has been the raising of funds to purchase a Track Chair for a veteran who was injured while serving his/her country. The all-terrain chair will help the veteran participate in activities such as hunting, maneuver on the beach, take hikes, go out on the farm and many other outdoor events. The West Virginia Daughters raised enough money to purchase a chair. The recipient chosen is Mark Holbert from Fairmont, who served in the Army. On his third tour of Afghanistan he stepped on an IED and his injuries are serious.
The DAR may work to raise additional funds for a second chair and will be looking for a deserving veteran. Mrs. Frankenberry encouraged all Daughters to continue service to their communities to promote Patriotism, Education and Historic Preservation. Any woman interested in learning more about the DAR in the counties of Braxton, Nicholas, Webster, Clay, Calhoun and Gilmer is encouraged to call 304-765-7478.