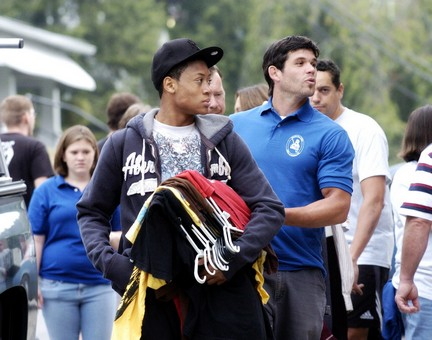 Students being moving into dorms August 15. As part of the college's tradition, staff and faculty help students unload and carry their belongings to the dorms. Dave Bernier (center in blue shirt), director of GSC's High Adventure Program, and others help students with their luggage. (GSC file photo by Drew Moody)
By Drew Moody
For the Hur Herald
Expecting the largest freshman class in recent years, the Glenville State College campus is buzzing with activity prepping for a three-day student orientation beginning August 15. Classes begin August 18.
Two notable beneficiaries of student recruiting efforts are GSC's music studies and the Pioneer football team. The college's marching band will field about 70 members this year, while the football team is fielding its largest team in recent years, half of which are new to Glenville State College.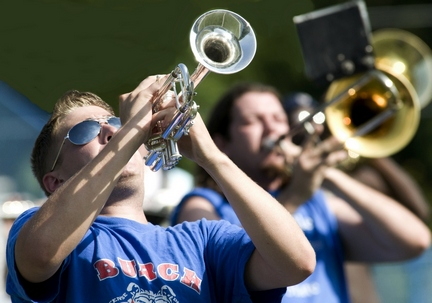 Glenville State College Marching Band's annual summer camp begins August 10. For an intense six days marching band members will have two-a-day outdoor practices putting together their halftime show. (GSC file photo by Drew Moody)
"It's getting ready to be pretty insane," GSC Marching Band director Lloyd Bone said last week. The band's annual camp to put together their halftime show starts August 10. The six-day schedule includes morning and evening marching practice. Afternoon efforts are indoors, focusing on music rehearsal.
Much like the football team's short timeline, there's a lot of work to squeeze in before the band's performance season begins. "If it's a nice evening and things are going well, we'll go till they drop," Bone said smiling, with just enough of a mischievous look to leave room to doubt whether he really meant it or not.
Football players arrive August 11 to begin one-a-day practices until their season opener at Concord, September 6. Head coach Dave Hutchinson reported his staff's recruiting efforts have notched a seven-year high in team size. He's expecting a good year with eight offensive starters returning. Hutchinson and the assistant coaches spent the past two weeks reviewing the overall program, planning strategy based on the team's known strengths, and set goals for this year's Pioneer football season.
NEW & EXPANDED PROGRAMS FOR STUDENTS
Internet and wi-fi speeds will be upgraded to more than double current connection speeds when the provider's hardware installations are in place. Minnie-Hamilton Health System completed its relocation to the new Waco Center facility and began seeing patients there Monday (Aug. 4).
Changes on campus include expanding hours students are permitted to have visitors in the dorm. "High school is over," said Duane Chapman, dean of student services. "We wanted to make it easier for students to see their friends."
Chapman assembled the team who planned and is overseeing upcoming student orientation events beginning August 15. Student services also coordinates programming and events throughout the year providing a variety of activity options.
Intramural sports-related choices include: flying disk golf, flag football, basketball, laser tag, open gym, physical competitions in the fitness center, and pool tournaments. Chapman expects to organize water polo matches by spring. Additional activities on the fall schedule feature: comedy performances, billiard tournaments, black-light roller skating, mountain biking, and more.
GSC's High Adventure Program, headed by Dave Bernier, takes students throughout West Virginia to participate in white water rafting, rock climbing, horseback riding, a visit to the New River Gorge bridge, paintball battles and a ski trip to the mountains.
BEHIND THE SCENES
The athletic department's move to the Waco Center and football field area offices are complete. In addition, a campus-wide energy savings plan has been fully implemented. Projected energy savings are over $2-million over the next 15 years.
Several remodeling and office relocation efforts will be underway during the coming year. The physical therapy center is moving to the Waco Center. Former athletic offices in the main campus gym are being converted to house the fitness center, currently in the Mollohan Center. That vacated space will be the new home of student academic support services.
New welcome center offices, future home of the enrollment and support staff, are planned for the lower level of the old gym. All remodeling projects are scheduled for completion during the coming school year.
A campus-wide emergency alert system is now in place. Faculty and staff briefings regarding the protocols of its use will be scheduled prior to student's return for classes.
THE CRUNCH ZONE -- REGISTRATION
Particularly this time of year, the staff effectively juggling five cats of fire are in the registrar's office. "It's just unbelievably crazy this time of year," said Ann Reed, who manages the office. At times phones ring almost constantly, she said.
The registrar's office processes and evaluates transcripts, monitors and reviews course schedules posting notices when classes are full (closed). They also determine if additional class offerings are needed. West Virginia residency applications are funneled through the office as well.
Greg King, associate vice-president of enrollment, said Monday (Aug. 4) it's still not too late to enroll in classes for the fall semester. Anyone interested in attending GSC this fall should contact the college as soon as possible, King said.
Campus tours are available Monday through Friday.
To enroll at Glenville State College, or for more information about the school and degree programs available, contact the admissions office at 304-462-6130 or 1-800-924-2010. For other questions, the college's main number is 304-462-7361.