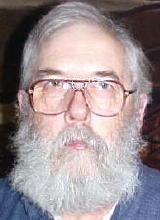 By Alvin Engelke
alvinengelke@hotmail.com

There will be a flea market at the Creston Community Building on Saturday, August 9 starting around 8 A. M. Table space costs only $5 and all fleas and those who chase & scratch them are invited. Food will be served.

Local residents were concerned when there was a large law enforcement contingent in Creston "looking for a 70 year old man". Later it was learned that they were looking for Calvin Westfall, age 69, who, apparently had driven off on his four wheeler and then, apparently, taken his life. He lived near the mouth of Tom's Run.

Alvin & Nancy Engelke were visiting her sister Betty Welch and her brother & wife, Dick & Judy Martin in Peoria, Illinois. A big concern there is that with the tax situation in Illinois, Caterpillar is going to move elsewhere. As has been said, "elections have consequences".

They also motored to Spencer Iowa, the home of the famous library cat, Dewey Readmore Books who is now buried beside the library that was his home for 19 years. A trip across Ohio, Indiana, Illinois and on Route 18 through Iowa will make a strong statement about the importance of American agriculture and the importance of corn & soya beans. It is hard to believe that many in the government want to attack and cripple farming in our nation Some while back Al Gore said we should get all our food from 3rd world countries. Apparently he never traveled in the heartland [flyover country to the elites] and had no grasp of agriculture, science, economics, but, apparently did well in the class in toke rolling. In divinity school he apparently learned how to be the "high priest" the position he holds in the Church of Anthropomorhic Global Warming/Climate Change. He was able to win a No-Bull prize and made hundreds of millions foisting a hoax on the country that he wanted to rule/lead.

The furor over common core, the federal takeover of education continues. Some listened to Bill Ayers, the domestic terrorist turned "educator" who helped the current fellow at 1600 Pennsylvania Avenue and a little research shows that various biggies over time wanted to make sure that the populace was poorly educated so that they could be more "pliable". When the Creston news writer was in the 6th grade everyone could read and write but now, with all the $$$$ and special programs such is not the case and one must come to the conclusion that such is deliberate.

Folks from Creston don't usually go to the Picture Show [movies] but the movie 'America' is definitely worth going to see. Someone said it should be mandatory that it is shown in all the schools.

Magnum Hunter announced that they purchased some Marcellus & Utica acreage in Ohio & West Virginia from Ormet.

Antero announced that the firm now has 9.1 trillion cubic feet equivalent of natural gas reserves subject to "ethane rejection". It is understood that ethane is being flared at some facilities.

Antero also announced that on their Marcellus wells they expect to recover 1.9 billion cubic feet equivalent/1000' lateral in their Marcellus wells and 2.8 bcfe from their best Utica wells.

Local Pennsylvania grade crude fetched $101.09/bbl with Appalachian light sweet [drip] bringing $79.59, Marcellus & Utica light $95.09 and medium $101.09

The views and opinions expressed herein are those of the author and do not necessarily reflect the views of the Hur Herald.