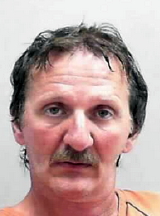 Calhoun authorities have arrested a former Richardson man, David Allen Booher, 49, and charged him with falsely using the identification of another Calhoun man, Donald Simmons.

Natural Resource Police officer Charles Stephens, following a traffic stop, issued multiple charges after Booher presented a photo ID of Simmons.

Stephens initially issued charges against Simmons for expired MVI, no insurance, possession of a controlled substance and improper registration.

The charges against Simmons were dropped a month later when Simmons appeared in magistrate court, according to the criminal complaint.

According to court records, this was the second time Booher had used Simmons ID falsely. In 2011, when Booher was arrested in another county on meth charges, and was booked into Central Regional Jail, he used the man's ID.

Booher now has additional charges, driving suspended 2nd offense, obstructing/giving false information, littering, and four counts of fraudulent filing of a legal process.