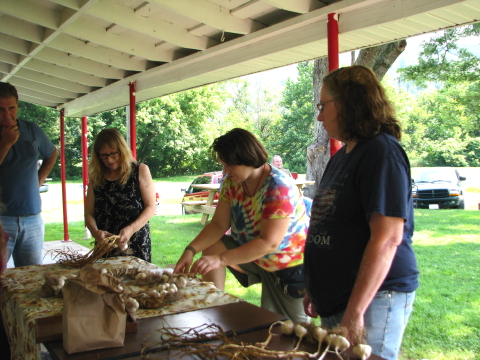 Melanie Degan (center) held a free garlic braiding workshop at
this week's Calhoun County Farmers Market. Shown with Melanie
are participants Annette Webb (right) and Carol Hoffman (left)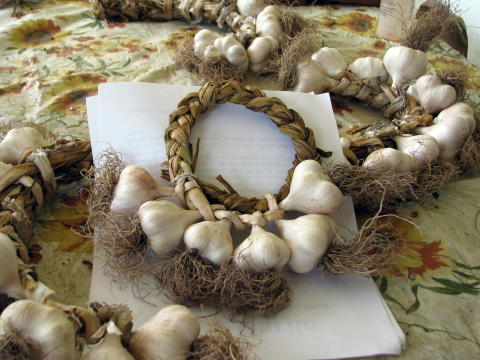 Some of the braided garlic ropes
and rings completed at the workshop
By Kathy Russell
CCFM (Calhoun County Farmers Market) is located in Chloe at the Upper West Fork Community Park, 10 miles north of Exit 40 from route 79 on Route 16.
Calhoun is a small county - only 7,600 people - but the market is well attended. It has been open in the same location for the past ten years. On Wednesday from 9:00 to 1:00 it is a farmers market, a diner, but more than that, its a place where the community gathers to visit while they shop.
The community building has a certified kitchen so meals can be served as well as sell produce, eggs, honey and craft items.
Vendors feel part of the success of the market is that it is run totally by them. There is no designated 'market manager'; each vendor takes on the tasks they most enjoy. There are usually 8-12 vendors each week.
Last market year, from May through November, the market did $22,000 of business. That's money that went back to local farmers instead of 'big box' stores. The market emphasizes good health, and the benefits of eating locally. None of the vendors use pesticides on their crops, and truly believe in selling local produce - all vendors live and farm within a 50 mile radius of the market.
Last year Calhoun County Farmers Market participated in a pilot project to find ways to encourage customers to use their SNAP benefits at the market. The project started slowly, but by the end of the market year had more than several repeat customers using their debit card to purchase healthy food for their families. There are also many senior citizens using their vouchers at the market.