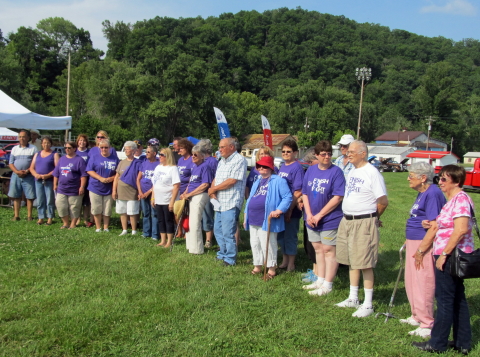 Cancer survivors group assemble at Relay for Life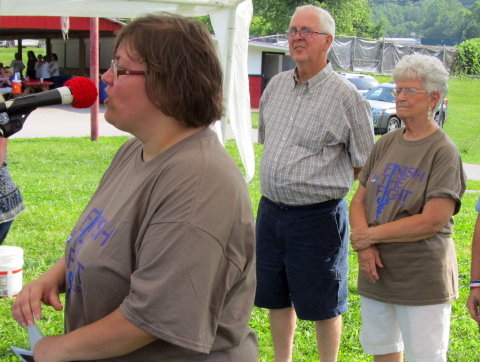 Relay chairperson Barb McKown (front) introduces
Honorary Relay Chairs, Shirley and Faye Fitzwater (back)
The 2014 Calhoun/Gilmer Relay for Life "We're Off to Find a Cure" Saturday at Wayne Underwood Field in Grantsville was a big success, raising over $23,000 in the fight against cancer, exceeding the goal of $17,000.
Shirley and Faye Fitzwater were recognized for their years of volunteerism by being named Honorary Chairs for the night, Faye Fitzwater a cancer survivor.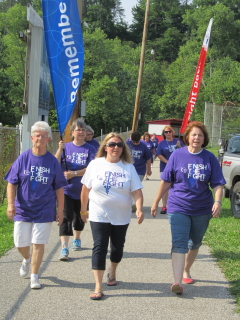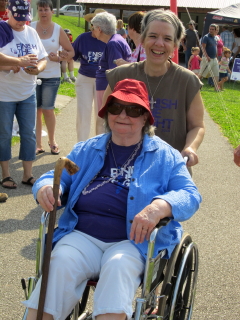 They're off to find a cure ...
Thirty-eight cancer survivors took the first lap around the field, later joined by their caregivers. Throughout the event at least one member from each team walked the track at all times.
The evening kicked off with an acapella version of the Star Spangled Banner performed by Eva Chapman, followed by the invocation by Reverend Carroll McCauley .
Throughout the evening, survivors and guests enjoyed entertainment, visiting team sites, a classic car show, and a lively auction.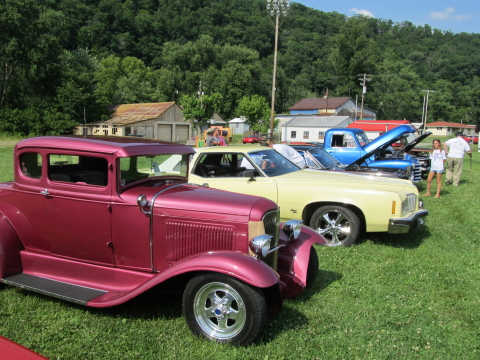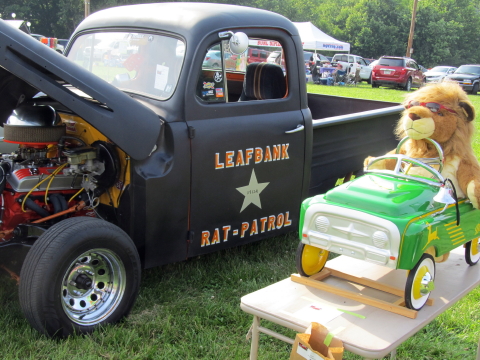 The annual Car Show was a featured event
Queen Flora Erica Jones handed out trophies for the classic car show to Chet Sholes for People's Choice and Randy Yoak for Best of Show.
"There were scorching temperatures and one nasty rain shower, but that didn't hinder the celebration. As darkness fell, the most poignant moment was held as luminaries were lit all around the track in honor and memory of those who have battled cancer," said organizer Barb McKown.
The poem "Struggles" was read by survivor Donna Steigleder, the names of remembrance were read by fellow survivor Faye Fitzwater. As participants took time to reflect, Chelsea Hicks closed the ceremony with "Somewhere Over the Rainbow."
Relay for Life is an annual fundraiser for the American Cancer Society with the funds going into research, programs such as Road to Recover and Look Good and Feel Better.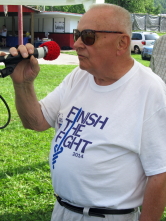 Rev. Carroll McCauley (right) offers prayer for survivors and families of deceased cancer victims
This year's teams included Boson Buddies, Crawfords Crusaders, E-Leomonade-Ors, Grace, Minnie's Heaven's Helpers, Minnies Rainbow Day Care, Pioneers for a Cause, Pleasant Hill Crusaders, Shannons Shing Stars, The Rainbow Troop, and Westbrook Roane/Calhoun.
"A special thank you goes to the committee and all those who participated," said McKown.
The 2014 Relay committee chairs: Barb McKown, event chair; Carlene Frederick, sponsorship chair; Carole Bibb, sponsorship chair; Helen Johnson, survivor chair; Jim Sullivan, logistics; Judy Powell event co-chair, luminaria chair.