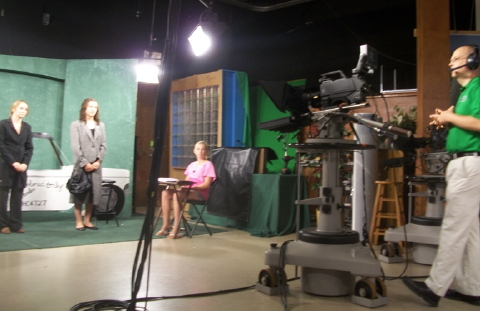 L-R: Alicia Mills, Darla Harrison, and Megan Harding
getting final lighting and sound checks before filming
By Dan Cosgrove, Manager
Three Calhoun Middle School Students were invited to the Marshall University' studio to film their original Civil Rights performance, "Freedom Riders: The Joan Browning Story." The filming was arranged by Matthew Turner, the Chief of Staff of Marshall University and was coordinated through Rhonda Frye in the University Communications Department.
Students arrived at the communication office to meet and have lunch in the communication's conference room with Ms. Frye, and professors from Marshall's History Department.
Students impressed their hosts after talking about their research at the state's archives, personal meetings with Ms. Browning, and overall knowledge of their topic. After lunch, students moved to the studio to set up their props and prepare for filming.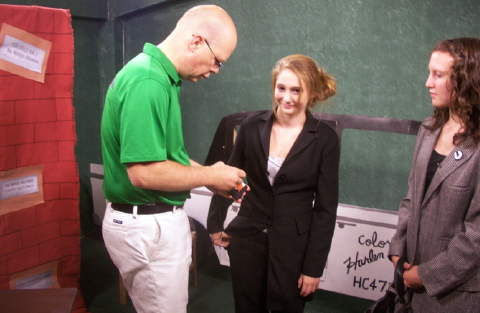 'Stars' Alicia Mills and Darla
Harrison getting wired for sound
After the initial run though, you could visually see and feel the intensity rise in the studio. The students who were laughing and joking as middle school students minutes earlier, turned into professionals when the cameras were turned on. Everyone was impressed with what they saw, from the cameramen to the people in the control room. They were all called in to work, just for this project, and although polite and cordial, probably didn't think these young students' project was at the caliber they were used to.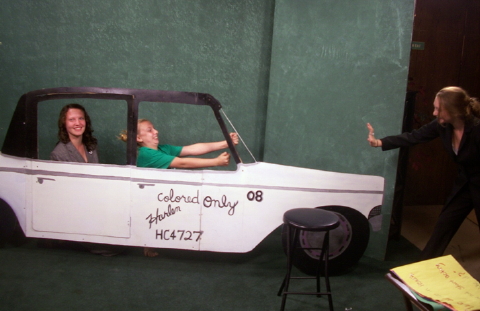 Relieving the pressure of filming - Girls have a little fun.
Taxi is accurately designed and painted as the original 1961
taxi Ms. Browning was in, when stopped and arrested
There was definitely a "wow factor" and an increased interest after they started. In fact, Marshall's history professors attending the filming agreed to an informal relationship with CMHS' history program and discussed looking for programs for Calhoun students to participate in throughout the year. Earlier in the week Calhoun students attended Marshall University's 4-day Journalism Workshop. They were all invited back for next year's workshop.
The students' performance will be uploaded on Marshall's Satellite System, and put on YouTube. The video will also be sent to a Civil Rights Museum for posterity. Information on how to view the performance will be given at a later date.