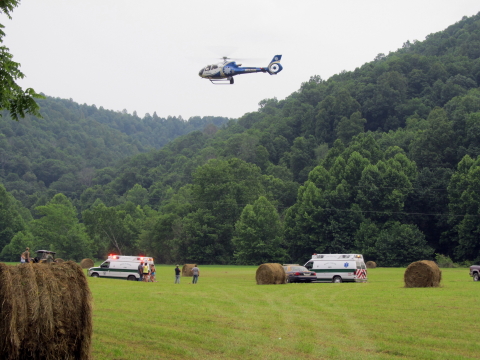 A second UTV accident within 24-hours has sent two to the hospital for treatment of injuries.
Responders went to Orchard Run in Roane County, about two miles from Pink Road, after a man and his wife reportedly hit a sink-hole in a field, causing them to wreck.
Sources at the scene reported that the victims were Beech residents Paul and Sandra Butler.
The couple were life-flighted by two choppers from the hayfield were the accident happened, the extent of their injuries is not known, but a source at the scene indicated they did not appear to be critically injured.
Minnie Hamilton EMS dispatched two ambulances to the scene, with the Arnoldsburg VFD also responding.
State Police investigated the accident.
Two Meadow Run residents were injured Friday night in Calhoun when their UTV went over an embankment.
Early Sunday morning a car crashed on its top on Sand Ridge Hill, with no injuries reported, responders not called.
The Arnoldsburg VFD responded to a car fire on the left fork of Crummies Creek Sunday afternoon about 3:30 p.m.
The car in the middle of the highway was described as a total loss.