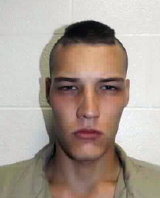 An Jackson County man is being charged after he allegedly threatened to detonate a bomb at the Evans Elementary School while children were present.

Blake Ryan Garnes, 22, of Evans is charged with terrorist threats and possession of an incendiary device, according to a criminal complaint.

Police received a tip regarding the man's threats, and overnight the Jackson County sheriff's deputies, federal agents and the Kanawha County bomb squad raided Garnes' home in Evans and found a functioning bomb, according to the complaint.

Authorities said Garnes admitted to making the bomb, and authorities discovered writings in the home where he talked in detail about his desires to kill people and children.

The complaint also said he "enjoyed pain" and was fascinated by explosives and had dreams daily about killing people.

If Garnes is convicted, he faces 2-13 years in prison. He is being held on a $500,000 bond.